Predaina accuses Student Senate of violating open meetings law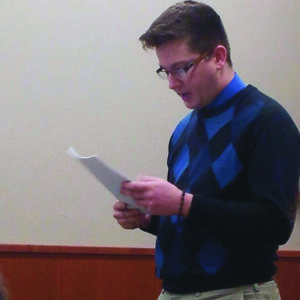 Johnathan Predaina addressed a hushed Student Senate March 18, saying that actions taken during their previous meeting violated the Wisconsin Open Meetings Law.
The actions Predaina referred to were the voting on and passing of the motion to place the University of Wisconsin-Platteville's membership with the United Council on the upcoming spring referendum. The motion also created an ad hoc committee, comprised of senate members, to review and disseminate information about United Council to students
Predaina said the agenda for March 11 was not posted with at least 24 hours notice, nor was there discussion regarding such a motion during the March 4 Senate meeting.
Wisconsin OML states, "The notice of the meeting must give the time, date and subject matter of the meeting, including any matter intended for consideration at any contemplated closed session. Wis. Stat. § 19.84…When notice must be given, the chief presiding officer or his or her designee must provide notice of every meeting at least 24 hours before the meeting begins. Wis. Stat. § 19.84."
Predaina demanded that the Senate reconsider the actions taken during the March 11 meeting.
"And if you choose to stand by your actions then I am prepared to press charges," Predaina said.
However, some members of Senate debate Predaina's claims, noting that discussion concerning United Council did take place during the weeks leading up to the March 11 meeting. Whether this constitutes 24-hour notice remains to be determined until past weeks' minutes can be analyzed.
For now, a Senate meeting is tentatively scheduled for April 1 to discuss the possible reconsideration of the actions taken during the March 11 meeting.