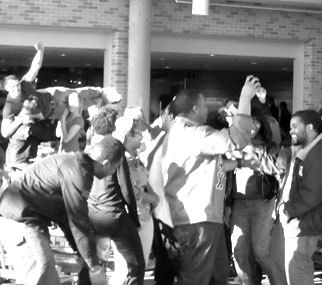 The groups I Pledge to Respect and Stop the Hate held a Pioneer Shake Thursday, April 25 at the University of Wisconsin-Platteville. This event was held to unify the people of all cultures on campus by bringing them together to dance to the Harlem Shake, a popu­lar video and dance worldwide, and to learn to respect one another.
"It's amazing how many people you can unite in the name of dance," Jer­emy Payne, senior physical education major said.
The event started off with every­one sitting at their tables talking at the Pioneer Crossing in the Markee Student Center. When the song came on, everyone jumped up and broke into dance.
Payne, who is also a member of the Pioneer Involvement Team, said the students who engaged in the event are involved in a positive activity on cam­pus.
"I believe by having this type of event, we are able to create the plat­forms for students to meet other people who have common interests," Payne said.
Jacky Xia, an international graduate student from China majoring in adult education, said he participated in this event to meet new people. Xia said when he found out about the event, he decided to be a part of it and thought he may even make some new friends. Xia said he believes that everyone should be treated equally, and this pro­vided people with an opportunity to show their personalities and their re­spect for others.
Payne said it was an environment that encouraged healthy communica­tion and interaction, and allowed stu­dents to engage with other students from different cultures and back­grounds.
Mackenzi Reeg, freshman biology major who watched the event, said it was something she would definitely be interested in being a part of.
"It was cool to see so many people of different cultures come together as one and respect each other by just dancing and having fun," Reeg said.
I Pledge to Respect is a campaign to respect inclusivity on campus. Stop the Hate is a program to educate the campus on bias incidents and hate crimes.