Kind talks to small business owners about health care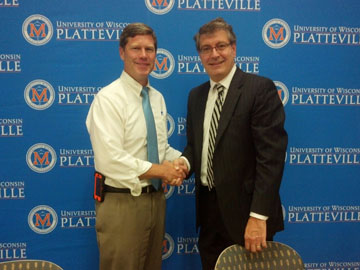 Small business owners expressed concerns about the Affordable Care Act at a forum featuring U.S. Rep. Ron Kind, D-Wis., last week.
Kind, along with Wisconsin District Director for the U.S. Small Business Administration Erik Ness, broke down key points and features of the Act to an audience of nearly 100 people, composed of students, staff and community members.
Kind said that nearly 400,000 Wisconsinites are uninsured, which is why forums such as this draw crowds of people looking to become educated on the topic.
"I think it's important for us to try and help get the facts out," Kind said.  "There is so much misinformation and misunderstanding about these state-based exchanges and health care reform overall."
The open enrollment sign-up period for qualified health care plans begins Oct. 1 and goes through the end of March.  Kristin Young, a member of the office of Health Reform in Washington, D.C., listed the 10 health benefits that qualified health insurance plans are required to cover under the Act.  These services include outpatient services, emergency care, hospitalization, maternity, mental health treatment, prescription drugs, rehabilitation services, laboratory services, preventative care and pediatric services.  Young spoke to the crowd via Internet.
During the question and answer portion of Kind's forum, small business owners took to the microphone to express their concerns about insuring their employees.  The Act exempts businesses with 50 or fewer employees from providing health insurance.  The definition of a small business varies among sections of the Act.  Two small business owners at the meeting expressed fear that their businesses will never be able to expand because of the amount of money that it would cost to insure everyone on their payroll.
Kind said that, as of now, a large portion of business owners insure their employees even though they are not required by law to do so.  As of 2014, if small business owners choose to provide health insurance for their employees, they will become eligible to receive a small business tax credit of up to 50 percent of the premium cost.
"[My] staff has been trained now to take phone calls and answer questions and queries," Kind said.  "They certainly know the points of information that they can direct people to, such as healthcare.gov."
Zora Sampson, a librarian at the University of Wisconsin-Platteville, gave the audience information about the library's collection of resources on affordable health care.
"I know students on campus that do not have health coverage, and I want to help them find out what this can offer them," Sampson said.  "Once they are of the age of 26, they are no longer under their parents' insurance.  Students are going to have to call on someone to help them understand."
Karmann Library has documents available to help answer questions about health care reform.