Students stepped into the shoes of a lead crime scene investigator in a staged 1976 crime scene in Madison.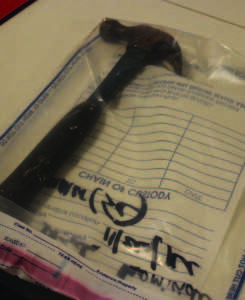 "The police have already been here," the moustache-wearing guide said.
A chill in the late October air added to the thrill of the hunt on Oct. 30 when the University of Wisconsin-Platteville Criminal Justice Department and Criminal Justice Association presented "Horrific Crime Scene Revisited" at the Forensic Investigation Crime Scene House at Pioneer Farm.
Shattered pieces of glass laid on the living room floor, along with a holiday wreath and candle.
The objects were remnants that began to tell the story of the long-since passed November day.
A wallet in the kitchen and an empty bedroom with open drawers, a closet and jewelry box on the bed held secrets yet to be known.
Madison resident Robert Disch was murdered in the home in which he rented a room.
He was stabbed in the chest, back and torso 77 times and hit in the head with a hammer.
The body lay on the floor with blood all around on the walls and cerebral material on the floor.
"They (the students) set up the crime scene using scientific evidence for the blood splatter," Ashley Lanz, sophomore criminal justice major, said.
It was a gruesome scene, filling one's head with unimaginable scenarios.
As they finished collecting evidence, the student investigators descended to the basement, which had been transformed into the Madison Police Department circa 1976, complete with autopsy photos and bagged evidence.
"It's neat to see the photos and the evidence, and to see people's reactions to the scene," Micaela Calabrese, freshman criminal justice major, said.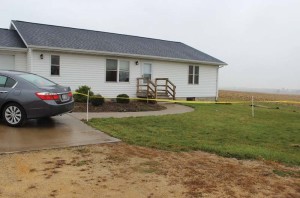 Designed by two members of the Criminal Justice Association, the group officially in charge of the event, Calabrese was one of many criminal justice students volunteering for the day.
"CSI isn't all glamour," Criminal Justice Department member Diana Johnson said. "People love the shows and the CSI science. The event allows students to see if this is something that they really want to go into."
Johnson also noted that the event, permitting students and community members to visit the house located off the main campus, is a way to experience being at a real crime scene.
With over 500 visitors this year, the annual event reported more traffic in its third year than ever before.
The Platteville Alumni Association provided free shuttles for the event, offering students transportation to visit the scene at Pioneer Farm.
Although helpful, Lanz suggested that more shuttles be offered in the future, due to the large number of students taking part in the event.