Students strip down, brave the cold for charity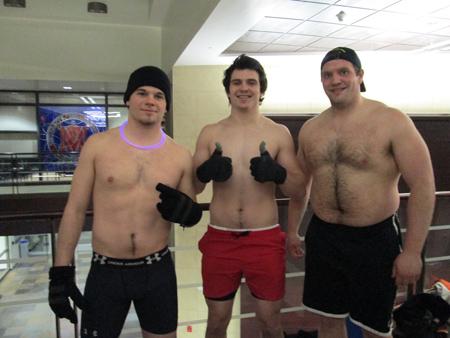 Despite the insufferable weather, University of Wisconsin-Platteville students stripped down to "nearly naked" attire and donated their stripped-off clothes for the Nearly Naked Run on Feb. 27.
The UW-Platteville Alumni Association hosted their second annual Nearly Naked Run, which consisted of a half-mile run around campus buildings.
The stripped-off clothes, along with any other items, were donated to family advocates and social services, along with organizations, such as Goodwill, and various women's shelters.
According to Mitch Austin, the president of Student Ambassadors, there were approximately 60 participants and eight teams, which collectively filled 10 large garbage bags with donated clothes.
"Turnout is appreciated, especially considering the weather and rescheduling," Austin said.
The run was postponed one week later due to low temperatures and freezing rain expected on Feb. 21.
However, the temperature was only in the single digits on the day of the rescheduled run.
Collin Meisner, a senior industrial engineering major, was frustrated with the rescheduling of the event.
"I was disappointed that they canceled it because you're supposed to brave through the weather," Meisner said. "Life begins at the end of your comfort zone."
Various prizes were given to teams and participants, and all the runners were awarded with Jimmy John's subs.
Team Hamms, which consisted of Jeremy Williamson, Beau Zanca and Levi Epley, won a $50 gift card to Benvenuto's, as they were the team that donated the most clothes.
The men of Team Hamms plan on sharing their prize, and each member insisted on participating in the Nearly Naked Run again because they enjoyed helping those in need.
Other awards were handed out during the evening.
"Asian Persuasion" received Best Team Name and "Destroyers of the Universe" earned Most Team Spirit.
Mike Schmidt, a junior industrial engineering major, was the first participant to finish the run.
This was Schmidt's first year participating in the Nearly Naked Run, and he highly recommended that more people participate in the future, as it was fun and for a good cause.