Stand-Up Saturday features California native, comedian Olivia Harewood
The university's Campus Programing and Relations welcomes Stanford alumna Olivia Harewood to perform in the Pioneer Student Center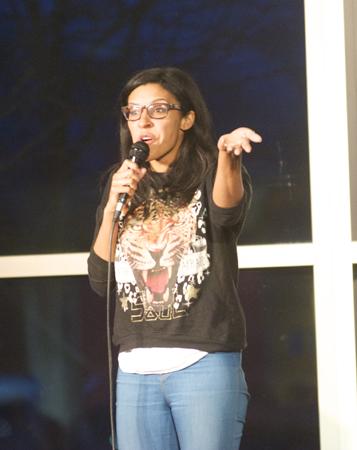 Comedian Olivia Harewood visited the University of Wisconsin-Platteville for Stand-Up Saturday on April 12.
The California native graduated from Stanford University and currently tours the nation, participating in various events and hosting her own stand-up performances.
While Harewood is typically known for playing weight-watcher Leslie on "The Misadventures of Awkward Black Girl," she recently performed for Stanford's TEDX event and hosted TheSuperficial.com's gossip news series called "The Superficial."
Harewood opened her stand-up act by stating that she was extremely happy to be in Wisconsin because "the people are so much nicer here."
While driving through Wisconsin, she passed several billboards that expressed the statements "God loves you" and "Jesus loves you."
A majority of Harewood's stand-up performance consisted of relationship humor and long-running jokes about weddings, as well as a thorough analysis of the Disney Princesses and how they relate to relationships in the real world.
Continuing on with her joke, she often imitated how the princesses behaved in order to gain male attention, ending with an ill-received joke about date rape.
She explained that Snow White and Sleeping Beauty both struggled with getting male attention until they fell asleep so the princes would kiss them, causing them to wake up and live happily ever after.
"The joke about the Disney Princesses and date rape just seemed a little inappropriate," junior elementary education major Liz Cunningham said.
Although some audience members' responses to her performance were mixed, various students thoroughly enjoyed Harewood's humor.
"I thought she was pretty funny overall," senior mechanical engineering major Adam Schultz said.
Harewood decided to become a comedian when her friend asked her to join a sketch comedy class while she was in college.
"I graduated from college and went back to L.A. [Los Angeles] to do more improv, and then I got into stand-up," Harewood said.
Harewood aspires to travel to more colleges in the near future in order to gain more experience and become accustomed to a variety of different environments.
"This is my first college cycle," Harewood said. "I really like it. I love the Midwest."
Harewood's stand-up strucuture, comic content and style are unique, but she mentioned that she plans on improving and changing some aspects of her performance in the future.
"It's [performance content] moderately observational and a little dirty," Harewood said.