Platteville votes blue in Republican Wisconsin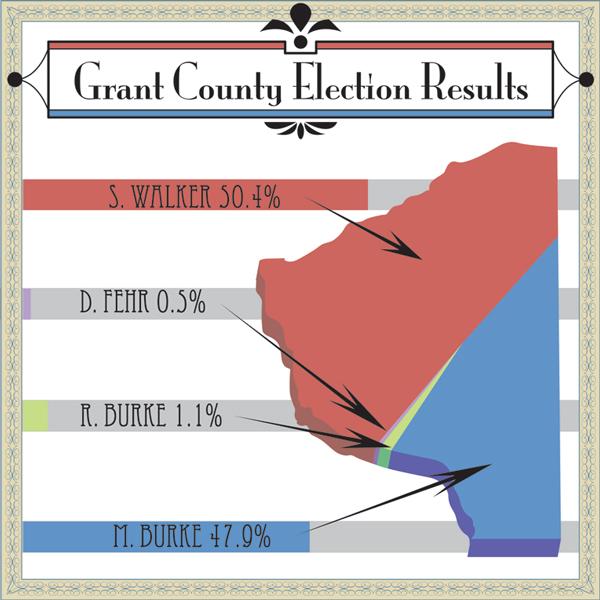 Election results are in and Wisconsin is solidly Republican. The City of Platteville, however, swung blue in the gubernatorial and senatorial races.
Trending in line with the red state, Grant County voted for incumbent governor Republican Scott Walker as he won the election with 50 percent of the vote. He has been elected to a second term as 52 percent of the state of Wisconsin stood with Walker.
"We can expect, definitely for university students, that [Walker] can hold tuition down," Rosalyn Broussard, political science professor and Director of Ethnic Studies, said. "Professors at universities can expect not to get raises which can result in making it harder to replace professors when others retire."
The City of Platteville's district totals shows opposing results as Walker lost the city receiving only 47 percent, or 1,801 votes, of the 3,851 total. Milwaukee, La Crosse, Douglas, Eau Claire, and Portage and Dane counties, each home to a UW-System university, voted democratically in the gubernatorial race along side Platteville.
"Saying that Wisconsin is a red state is not true," Scott Nikolai, political science lecturer, said. "It is one of purplest states in the union."
Walker's main opponent, Democrat Mary Burke, lost with 47 percent of the vote in the state, and 48 percent in Grant County.  Mary Burke fared well in Platteville however, with 51 percent of the vote, outranking Walker with 1,965 total votes.
"In Portage, Burke beat Walker 50 percent to 48 percent," Nikolai said. "It was a narrow margin, where democrats have fared much better in the past."
Portage, La Crosse and Eau Claire are counties where Democrat Mary Burke won. Surprisingly to Nikolai, those counties have been solid blue democratic lockboxes for some time, he explained.
Other candidates for governor included Libertarian Robert Burke, who took 0.8 percent of the statewide vote, and People's Party candidate Dennis Fehr with 0.4 percent. Robert Burke was more popular in the City of Platteville than the state, as he won 58 votes for 1.5 percent of the city total, while Fehr received less than 1 percent, or 25 votes.
"I would argue that Platteville is more Democratic than the rest of southwest Wisconsin," Broussard said.
Republican Howard Marklein won the District 17 state Senate seat with 55 percent of the vote, defeating Democrat Pat Bomhack who picked up 45 percent. The results were reversed in Platteville; Bomhack won the city 50 percent to Marklein's 49 percent.
For the state assembly, Cuba City native and Republican Travis Tranel took the win by 61 percent over University of Wisconsin-Platteville graduate and Democratic candidate Chad Henneman with 39 percent of the vote. Henneman saw more support in Platteville, with 42 percent, while Tranel won 58 percent.
Throughout the rest of the country, Republicans seized control of both the Senate and House of Representatives.
"With the last government shutdown, Congress has not gotten too much accomplished," Shan Sappleton, political science professor, said. "So it is a way to say OK, maybe if we had one political party control [the Congress], it will end this gridlock."
Wisconsin voters were also in favor of the State Transportation Fund Referendum, as 80 percent of the voters said "yes." This means that gasoline tax and other funds generated by the transportation industry will be used solely by the state for transportation-related expenses, instead of being funneled into other programs.
"It creates a safe box so that the money can be used for just that purpose," Nikolai said. "It protects certain public policies as sacred cows."
The counterargument is that economical, physical and emergency circumstances in the state may fluctuate, but that money can't be touched, creating fiscal inflexibility, Nikolai explained.
Platteville's results of the referendum were similarly consistent, with 78 percent of voters in favor, 21 percent against.
The number of voters and place in the election cycle is also relevant in examining election results.
"This is [a] midterm election year, with Wisconsin's voter turnout at 56.6 percent of the voting age public," Nikolai said. "Turnout for presidential elections is much higher, around 72 percent, with Wisconsin in the top 5 states in voter turnout."
Sources: www.channel3000.com, www.wisconsinvote.org, City of Platteville General Election Results Districts 1-4, Wards 1-8.