Web Exclusive: PlatteCon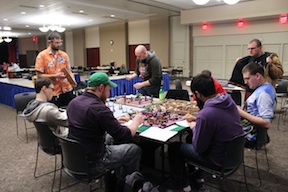 The University of Wisconsin-Platteville's Gaming Association held their 28th annual PlatteCon in Ullsvik Hall from March 6 to 8.
This year's western theme, "High Noon on Mars," was decided on by a community poll according to the official PlatteCon Facebook page. Attendees, who dressed in outfits like the classic western cowboys and cowgirls seen in movies today, captured the theme.
The vendors and admission fee pay for PlatteCon. According to UW-Platteville's Gaming Association PlatteCon Coordinator and business administration major, Will Schulner, PlatteCon is the Gaming Association's major fundraiser. The funds help cover the cost of other events throughout the year and also is used to make the next year's PlatteCon even bigger.
Schulner attended his first PlatteCon in the spring of 2011 and has been participating ever since.
"It's a gathering, it's fun, we come together to play games," Schulner, business administration major, said.
PlatteCon was open to the public and attendees ranged from elementary school age to UW-Platteville alum age. Various sessions over the course of the weekend included story telling, Anime, kid friendly RPG games, board games, cards, dice and video games.
UW-Platteville alumnus Jacob Lang traveled two and a half hours to attend PlatteCon which he said was a highlight of his time as a student.
"[I came to PlatteCon because] people play games and bring new games to play with others," Lang said.
"I enjoy meeting people from previous PlatteCons, both alumni and kids yet to enter college," James Thompson, junior software engineering major, said.