Pioneer Restore earns $5,317.33 for campus
A self-sustaining initiative, Pioneer Restore reuses what they can from campus, and gives 75% profits back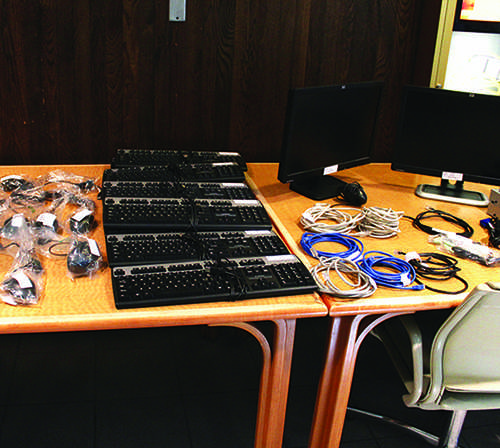 Pioneer Restore, a surplus store located in Glenview Commons, is a self-sustaining initiative which aims to keep items such as office furniture, kitchen supplies and electronics out of landfills and earn some profit along the way.  The store is part of sustainability initiatives on campus and is open to the public.
The inventory changes every week, general manager Kelly Shea said, and items that cannot be sold in the store are recycled or sold online. Electronic waste, or e-waste, makes up a large part of what is recycled.
Matthew Lindberg, senior sustainable and renewable energy systems major, is in charge of sorting and packing the waste, which is then sent to a company called Universal Recycling Technologies.
"We'll go through and see if it's something we can sell, see if we can give it a second home before we send it to end-of-life, which is URT," Lindberg said.
University e-waste can include televisions, monitors, printers and appliances that no longer function. Electronic odds and ends are also sent to URT, Lindberg said.
"The most random thing we have right now is the buttons of a microwave, but no microwave," Lindberg said.
When furniture or electronics are no longer wanted or needed, UW-Platteville departments can submit a surplus pick up request. The request is then sent on to either ITS or Geri Zauche, the campus facilities designer, Shea said.
Zauche said she looks for items with a good ergonomic design, and these are kept on campus.
"We have furniture that has been here since the 1950's," Zauche said. "Furniture that doesn't suit the task it should."
The proliferation of computers and digital storage has also had an effect on which items remain useful. Large filing cabinets, for example, are no longer as useful as they once were.
Items which are salvageable, but which do not qualify to be used again on campus are sold at Pioneer Restore. Item prices are determined based on online comparisons, Shea said.
Since the store is self-sustaining, which means that the positions held by Shea, Lindberg and three other student employees are supported by the profits the store generates. If the store makes over $500, 75 percent of the profits over $500 go back to the department from which the item came, Shea said.
"So far we have given $5,317.33 back to campus departments," Shea said. The departments that have received funds back include Physical Plant, Dining, Industrial Studies and CFA Shop Theater.
"It costs the university more money if they just throw things away," Shea said of unwanted items. "It also keeps items out of the landfill."
Lindberg said that e-waste specifically shouldn't be sent to the landfill because of toxic chemicals, and that a lot of it can be reused or is worth some money.
Pioneer Restore is open to the public every Tuesday from 12 p.m. to 7 p.m. Future plans include opening an additional day each week, spreading word about the store and finding more donation sites for items that don't sell.