Mud Volleyball hosts 200 competitors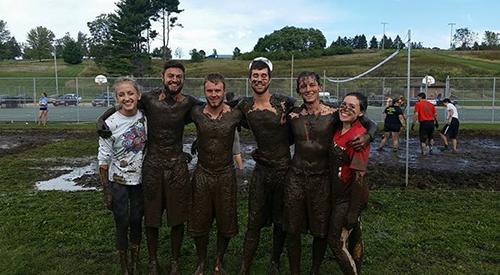 Thirty-two teams of six students got muddy during the University of Wisconsin Platteville's Mud Volleyball Tournament in Memorial Park on Sept. 19.
Campus Programming and Relations hosted the tournament, and due to the popularity of the tournament, the number of registered teams reached the limit. The rules required teams of six consisting of at least two women. Each game was played to 15 points, with the losing team being eliminated while the winner continued on to the next round.
The Platteville Fire Department assisted CPR with setting up the courts and was there to hose off the participants when finished with the tournament.
"It was a blast to see everyone come out and get muddy," Justin Toney, an event producer, said.
Team names included: "How I Set Your Mother," "Victorious Secret," "Setsy and We Know It," "Jorts," "Mud Skippers," "Practice Safe Sets," "Mud Without Borders," "Women in Green," "Red," "Fire Breathing Rubber Duckies" and "Asian Invasion."
"The turnout was great as we had around 200 people show up for the tournament. I thought everything was in our favor with the weather being so beautiful as well," Kate Bruegmann, an event producer, said. "I think having a single elimination with multiple courts went smoothly."
Despite the massive turnout, the tournament concluded earlier than CPR predicted.
"The event went over three hours, which was just enough so people didn't get bored and end up leaving," Breugmann said.
After several rounds, team "Red" and team "How I Set Your Mother" were the last two teams standing. Team "How I Set Your Mother" was declared the winner of UW-Platteville's Mud Volleyball Tournament. The team was made up of Shelby Swanson, Alyssa Szydel, Dan Callaway, Aaron Heim, Patrick Stemo and Andrea Waldera.
"It was our second year in a row winning the tournament. I was surprised with the turnout because last year there weren't nearly as many teams, so that was a pleasant surprise," Swanson said. "The tournament was very well organized and everyone had a great time."