Over 1,000 students at 'Yell Like Hell'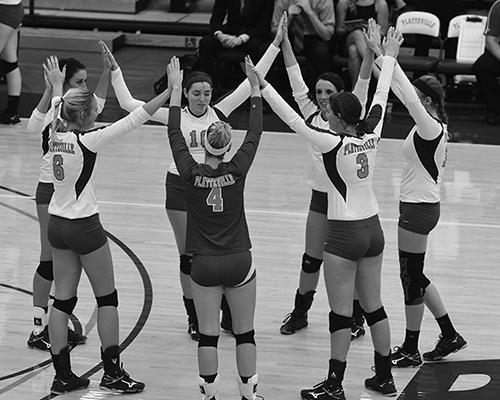 Nearly 1200 students gathered to cheer on the University of Wisconsin Platteville volleyball team at the 2015 "Yell Like Hell" competition on Oct. 7, in the Williams Fieldhouse.
Participants who entered in the competition, hosted by Campus Programming and Relations were judged on the following criteria: 40 percent spirit, 30 percent enthusiasm, 20 percent sportsmanship and 10 percent cheer. An abundance of chanting and clapping took over the stands as students rose and fell in direction of the wave.
"It was a great turnout," Justin Toney, event prodcuer, said. "It was awesome to see everyone come out, cheer for the Pioneers, and yell like hell."
Scores for the "Yell Like Hell" competition were divided between residence halls, Greek Life and organizations. The winners reached a maximum of 30 total points. Winners of the residence halls included Brockert Hall, Dobson Hall and Rountree Commons; Sigma Tau Gamma for Greek Life; and the Veterans Club for organizations.
"I love this event as it brings students to the field house to watch volleyball and show their school spirit," Linda Mulroy-Bowden, director of Residence Life and "Yell Like Hell" judge, said. "It's fun to see all the signs and feel the energy of the students there to cheer on our Pioneers."
After the final tally of scores, the sea of blue and orange continued to cheer on the Pioneers as each player was announced into the game.
The score of the home volleyball game played between the UW-Platteville and Edgewood College remained close. Edgewood ended up defeating the Pioneers with a final score of 3-1.
Despite the loss, the volleyball team remained in high spirits moving forward. Team captain, Lindsey Decker said she plans to stay positive throughout the season and hopes to finish with a record over .500.
"We played hard, but at the end of the day we couldn't finish the game like we wanted to. The atmosphere was awesome, so it made us pumped up but we just couldn't seem to finish the last few points," Decker said. "We are hoping to improve and get some conference wins under our belt."
Yell like Hell was just one of several events that students participated in throughout homecoming week.