Sen. Baldwin talks Perkins Loans with university press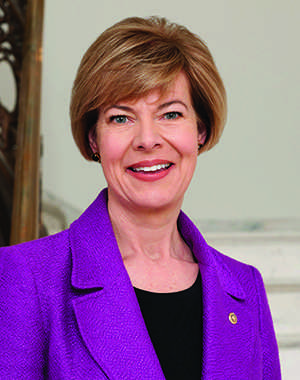 Since 1958, the Federal Perkins Loans Program has provided over $41 million in aid to nearly 20,000 low-income students. The Perkins Loan is a revolving fund; as previous participants pay off their loan, the money is reallocated to the next student taking a loan.
On Oct. 21, Sen. Tammy Baldwin, D-Wis., set up a Google Hangout press conference with four student newspapers across the University of Wisconsin System including UW-Whitewater's Royal Purple, UW-Oshkosh's Advance-Titan, UW-Madison's Badger Herald and UW-Platteville's Exponent. The reporters were able to ask Baldwin questions regarding the future of the Federal Perkins Loan Program.
"Knowing that this program was set to expire at the end of the federal fiscal year [Sept. 30], I gathered my colleagues, both democrat and republican, and we launched an effort to save this program," Baldwin said.
In order for the program to be renewed, Baldwin said there needs to be unanimous consent within the U.S. Senate. Sen. Lamar Alexander, R-Tenn., was the only opposing senator. When asked why she believes Alexander blocked the resolution, Baldwin said that she does not fully understand his motivations and that she only knows what he has stated publically.
"He is the chairman of the Senate Education Committee," Baldwin said. "We've been undertaking a series of hearings in order to reauthorize the Higher Education Act. He wants to deal with the issue in that larger piece of legislation. The problem is that the Federal Perkins Loan Program expired on September 30 and we have not yet passed the larger bill that he's working on. I think the gap is very, very unfortunate because of the uncertainty it leaves so many people to deal with."
Because there is little aid for low-income students, Baldwin is frustrated with Alexander's stance against the Federal Perkins Loans Program.
"The fact that one senator could stand up and reject a bipartisan and common sense measure, to make education more affordable and accessible, is a perfect example of why the American people are so frustrated and upset with what is happening in Washington [D.C.] and what is not happening," Baldwin said.
On Oct. 21, Baldwin went to the Senate again to try to pass the legislation. According to Baldwin's official website, "Senator Baldwin took action with a 'unanimous consent request' to fund the student loan program for one year, but Senator John McCain, R-Ariz., objected on behalf of Senate Republican leadership."
"I am not giving up this fight and I know that my bipartisan group of colleagues aren't giving up this fight," Baldwin said.