Social media campaign shows solidarity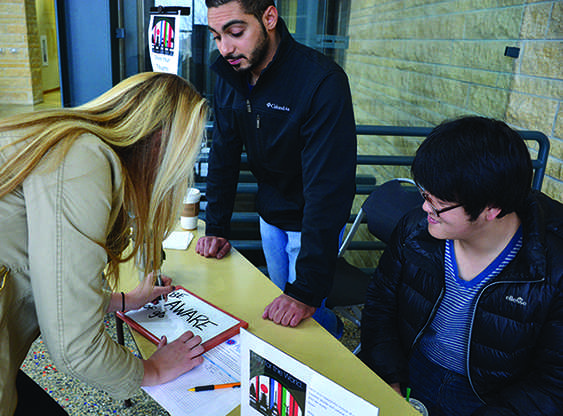 Ninety-nine University of Wisconsin-Platteville students and staff participated in a social media campaign to show solidarity for international students on campus and victims of terrorism across the globe.
UW-Platteville's International Club organized the campaign in less than a week after terrorist attacks left 130 dead in Paris, France on Nov. 13, and suicide bombings killed 43 in Beirut, Lebanon the  previous day. Members staffed a booth in the Markee Pioneer Student Center from Nov. 18 to Nov. 20 and participants posed for photos holding a small whiteboard including hand-written messages ranging from "Peace" to "Terrorism does not have religion" and "Welcome refugees."
"Maybe we are not able to fight terrorist groups with weapons, but we are able to fight them with social media," Mohammad AL Shatti, sophomore computer science major and vice president of the International Club, said.
AL Shatti, an international student from Saudi Arabia, said he hopes the solidarity efforts will also increase the visibility of international students on campus.
"We're just trying right now as a goal for the International Club […] to tell this campus 'oh hey we exist here,'" AL Shatti said. "We are trying to get more involved on campus. I believe that there are so many American students that don't even know about the International Club."
Assistant Director of International Programs and International Office Co-Adviser Liz Kruse said she felt the campaign was also an opportunity for people to share thoughts on the violence taking place around the world. Kruse posed in one photo holding a whiteboard that read "I have lots of questions. But the answer is not vengeance."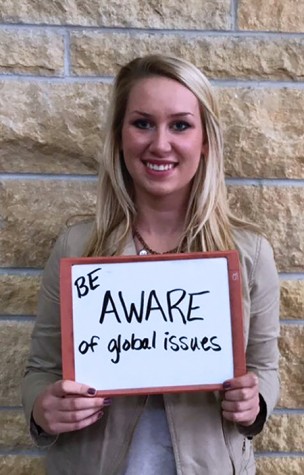 Kruse said that she was inspired to write that statement because after hearing about the attacks, she found herself with a lot of questions.
"Why did the Paris attack resonate with me so much, when attacks like these are happening everyday around the world?" Kruse said. "How is the climate of fear sweeping over our world going to impact those on campus and in our community who are perceived as 'different?'"
Mandie Lillibridge, co-adviser of International Club, posed with a whiteboard that stated, "Ignorance is bliss. Knowledge is power!"
"For years I took the ignorance is bliss approach and thought if I don't know about it, it doesn't affect me," Lillibridge said.
Lillibridge said that as she has gotten older she makes a more conscious effort to be informed about the world, which is what inspired her whiteboard message.
AL Shatti, who will be president of the International Club next semester, said he believes the campaign was successful, particularly given that club members did not have much time to plan it.
"We showed many people that we care about [them] and that [they] are not alone here, especially international students who don't have families around them," AL Shatti said.