From fraternity houses to stages:
Mike Posner performs at UW-Platteville campus on Labor Day
"I need you to vow to have as much fun as you possibly can," singer-songwriter Mike Posner told the audience at the University of Wisconsin-Platteville's Welcome Weekend concert on Sept. 5.
Even though this was the first time that Posner performed at UW-Platteville, it wasn't the first time he performed on a college campus.
"All my first shows were in fraternity houses and then I moved up to schools and did official shows," Posner said. "It's a little nostalgic."
Posner first blew up in the music industry when his single, "Cooler Than Me," debuted in 2009. After his follow up singles didn't sell as well as his debut, he took a brief hiatus from performing. During this time Posner ended up writing songs that he intended for later albums, however, artists like Justin Bieber and Maroon 5 ended up recording them.
"It's flattering because they like the song enough to make it their own. You get the admiration and the respect from someone that you respect and that feels good," Posner said.
During the concert, Posner performed "Boyfriend", a song that was recorded and made popular by Justin Bieber. This received loud cheers and applause from the audience members as they continued to sing along.
"I had no clue that he wrote the song 'Boyfriend'! It was cool to see the crowd sing along to every word," Robyn Maxey, junior, elementary education major said.
After the song ended one attendee started a "When I say Mike, you say Posner" chant and the rest of the audience joined in. This crowd interaction prompted one of Posner's band members to comment on how fun the audience was.
This wasn't the only crowd interaction that the Posner Band had with the audience. He climbed on top of speakers and went into the crowd in order to get them excited. He also encouraged the audience to dance with him during music interludes.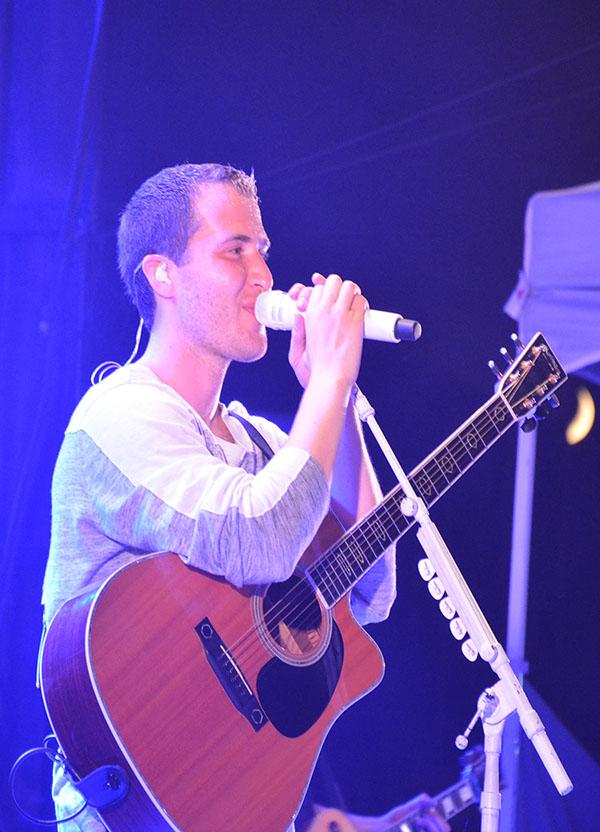 "I really enjoyed how interactive Mike was with the crowd," Maxey said. "I liked how he referred to us as P-Vegas."
The positive interaction from students isn't something that Posner always receives, however, he has a blog that is dedicated to hate comments. This is only just one of the ways that Posner deals with hate, though.
"Almost every day I'll make a list of things that I appreciate in my life, but I'll also try not to be on my phone all the time. I know I have a good day when I haven't looked at my phone," Posner said.
He tries to focus on positivity and loving life. Earlier in the week his tour bus broke down, but he was able to remember how lucky he was that he even has a bus to tour with.
Since Posner is a college graduate, he recognizes that not many students have the money to spend on music.
"We just stole everything [music]. It's probably easier to [get music] because you don't have to break the law as much," Posner said when asked about music streaming websites. "My last album cost a lot of money to create. There was over 100 people working on it… everyone is doing the best they can."
Posner encourages students to get involved in music.
"Worry about being good, don't worry about being big," he said.