Six Appeal gets standing ovation at acapella night
Six Appeal wows the family weekend audience with their comedic vocal performance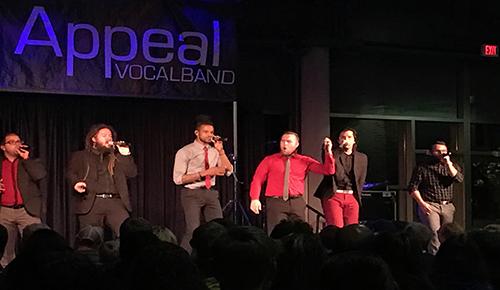 This past weekend, the University of Wisconsin-Platteville hosted Family Weekend. Families were encouraged to visit their loved ones and participate in some of the events that occur over the weekend.
This year's Family Weekend brought a large crowd, so much so, that there was barely enough room for people that wanted to watch the Six Appeal acapella group in the Pioneer Crossing inside of the Markee Pioneer Student Center.
"Last semester, a group of CPR students went to [the National Association for College Activities] and they were a part of one of the showcases. They were music to our ears, literally! And we were like, we gotta bring them over for acapella night! Then we thought it [would] go over really well for Family Weekend," senior media studies major and CPR event producer Justin Toney said.
The traveling acapella group consists of Andrew Berkowitz, Trey Jones, Michael Brookens, Jordan Roll, Nathan Hickey and Reuben Hushagen.
"[The group started in 2006] in Concordia College in Moorehead, MN. It was kind of like a college hobby kind of thing, like most college acapella groups are," Berkowitz said. "[Michael and Jordan] wanted to pursue the acapella group as a full-time profession thing. They found Reuben, Jordan and Reuben have known each other since middle school, they found me through friends of friends in the acapella community, they auditioned Nathan and we found Trey through Craigslist."
The group decided to be called Six Appeal because  one of the original members saw it on a license plate. According to Berkowitz, there is a downside with having that specific name.  Six Appeal will always be forced to have six members or else they will lose the novelty of their name.
Before the event started, Student Ambassadors, Becky Homa and Kayla Guttenberg, announced the winners of the tuition raffle. Every year the Student Ambassadors give out cash prizes to students that will go towards their tuition bill.
Six Appeal started off their performance by singing The Lion King's "Circle of Life" but adding their own personal flair to it. Six Appeal added a beat-box element to every single one of their songs that made them sound like a dub-step remix of the original.
"It's amazing. They are amazing!" said Guttenberg, who was also in attendance for the show.
During each musical break, Six Appeal would do hilarious things to one another like making cat meows whenever someone was beginning to speak or making a fart noise whenever one member pressed against another member's belly. During these breaks, they also introduced each member and how they contribute musically to the group.
Six Appeal used a wide range of songs from their arsenal. From Disney to Macklemore, Six Appeal performed a number of family-friendly songs. The entire audience seemed to enjoy the show as it ended with a standing ovation. All in all, the show seemed like the highlight of Family Weekend.