Cancer survivor inspires people to dance
University of Wisconsin-Platteville student helps raise money and awareness #ForTheKids.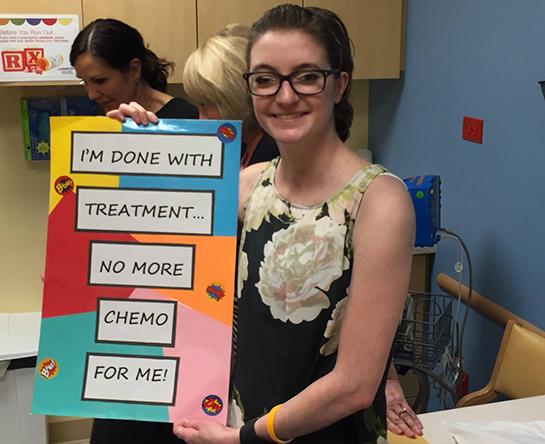 When walking through the halls of the University of Wisconsin-Platteville campus, one might see posters advertising the upcoming Dance Marathon lining the walls. The annual fundraiser involves students and volunteers staying on their feet upwards to eight hours through dancing, games and other entertainment activities. The event takes place on Feb. 4, 2017 in Velzy commons. This is the fourth year that UW-Platteville has participated in the fundraiser. Since it was first founded Dance Marathon has raised money for the Children's Miracle Network. The foundation has raised over $106 million for hospitals across the country, according to the uwplatt.edu website. The organizers have been bringing awareness to the cause by using the hashtag #ForTheKids.
However, for one UW-Platteville student, the fundraiser means more.
"I was diagnosed with Acute Lymphoblastic Leukemia on July 19, 2013. I was 19 years old and about to attend my sophomore year of college. They told me that if I would have gone another day that I wouldn't have made it," junior elementary education major Robyn Maxey said in an email interview. "The next struggle was when I was diagnosed with a rare Rhizopus fungal infection. I was given a five percent chance of survival. Then, I went into septic shock and was in an induced a coma for 10 days. I had many other hospitalizations with many other infections. I spent more than 142 nights in the hospital."
Throughout her stay in the hospital, it was the Children's Miracle Network that came to her and her family's aid. Being more than an hour away from the hospital, the Children's Miracle Network was able to provide gas cards and dinners for her family so that they were able to be with her. The group was even able to give her gifts so that she was able to be comfortable during her stay.
For Maxey, Dance Marathon raising money for the Children's Miracle Network is important to her because she has directly benefited.
"I just want to help children see their future like I got to see mine," Maxey said. "I love raising money for good causes. I think my passion comes from going through the experience of cancer myself."
Maxey currently has a goal of $200 to raise for the Children's Miracle Network.  At the time of this publication, she is $45 away from her goal. She hopes to reach her goal by the time of the actual fundraiser.
"You get to help a child live out their dreams and experience life like all kids do," she said in regards to why people should donate to the Dance Marathon.
Maxey is currently seven-months cancer free and hopes to remain that way.
"I go for checkups every month. I like knowing that I have made it for over half a year without any problems," Maxey said. "But I still have fear that my Leukemia will come back. My Leukemia is one that has the likelihood of coming back."
You can donate to Maxey's Dance Marathon campaign by going to events.dancemarthon.com and searching "Robyn Maxey."