College of EMS hosts 46th annual Expo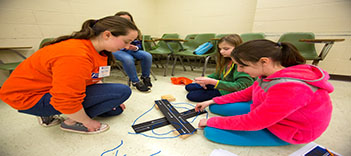 On April 6 the University of Wisconsin-Platteville College of EMS hosted its 46th annual Engineering, Mathematics and Science Expo. The Expo is an opportunity for current EMS students and faculty to share projects, open lab spaces and classrooms through various demonstrations, exhibits, workshops and contests with youth attendees from different school groups. In addition, families and other members of general public attended, primarily from the tri-state region.
The Expo went from 9:00 a.m. to 2:00 p.m. in Engineering and Ottensman Hall. 1,694 youth attendees got to learn about the science, technology, engineering and math field through 52 exhibits like electromagnetic induction, marshmallow catapult and hydrogen cell race cars.
According to Jaclyn Esqueda, Student Success Programs, College of Engineering Mathematics and Science, the main objective of the event is to encourage area youth to explore STEM fields.
"By attending, participants gain a more accurate understanding of the wide variety of options in the STEM fields and they get a chance to really interact and learn in a hands-on way. The UW-Platteville students who participate as project leaders or volunteers benefit from getting to practice describing scientific concepts for a non-technical audience. They get to practice their presentation skills, and they get to give back to the community while showing off the awesome exhibits they've developed," Esqueda said.
Planning for the Expo began in January by a 12-person committee made up of faculty and staff from the College of EMS, as well as university wide.
"There is a lot to coordinate, including placing all of the projects in room locations, training volunteers and [assigning] project leaders. As well as managing registrations, making sure we have plans in place for safety and risk management, keeping the webpage up to date, producing the program booklet, and more. We have lots of help from student employees, volunteers and various offices all across campus to create a successful event," Esqueda said.
Malachi Janisch, a 5th grader from Evansville said his favorite activity was Dazzling Demonstrations of Chemistry, which included fireballs and a variety of other chemical phenomena. Janisch also enjoyed talking with UW-Platteville students, especially those studying mechanical engineering.
"I want to be a mechanical engineer and maybe even come here to college," he said. "When I do, I'd like to help out with the EMS Expo."
Hussien also expressed the importance of improvements in daily life to students from industrial engineering.
"Making buttons gives students the ability to create their own design from personal creativity, while also showing the process to solve problems in daily life activity," he said.
The 2017 Expo also functioned as a learning opportunity for UW-Platteville students in the College of EMS.
"This is a good opportunity for our students to get engaged with professors and potential students. As well, learn more about their major while encompassing event planning and decision-making. The Expo grows our community and promotes our major. In the Industrial Engineering department alone we have 5 students working the button factory, but also have an Industrial Engineering Bake Sale and handouts where students can gain extra credit opportunities," Hussein said.
Next year's EMS Expo is scheduled for Thursday, April 5, 2018.