Campus Climate updates on "The 57 Bus"
How students can get involved and get copies of "The 57 Bus"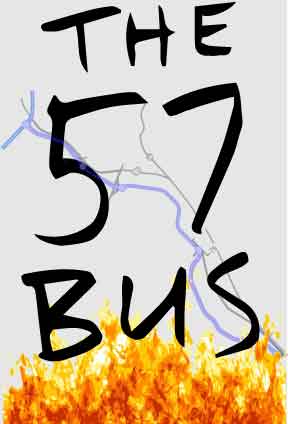 The Exponent reached out to the Campus Cliamte Coordinator, Emily Stier for information on how students can get involved with the Campus Climate bookclub and get copies of this years' Campus Read, "The 57 Bus". Stier has been working for the Department of Campus Climate since the end of February, 2019.
How many years now has Campus Climate sponsored a campus reading program? What books have we read in the past few years?
Campus Climate and/or the Division of Diversity and Inclusion has provided texts for campus-wide reading for a few years. The intention of the Campus Climate Book Club is to provide a platform for the campus and community to engage with texts that elevate voices, education, and experiences of diverse populations. Past books have included texts like "Race Talk," "Between the World and Me" and "The Hate U Give."
"The 57 Bus" addresses many pertinent themes like gender identity, race, class, and our criminal justice system. These structures, identities and experiences are important to consider and educate ourselves about. Above all, "The 57 Bus" is an important text that breaks down the nuances and factors that can affect life events. In a time where the internet provides many with instantaneous access to news, events, posts, and more, we have the ability to form instantaneous opinions and reactions to said content. "The 57 Bus" provides a platform that forces readers to take a step back and analyze how almost all events in life are more complex than they seem.
The Campus Climate read is free and open to all students, staff and faculty on all three campuses. To reserve a copy online, please utilize the QRL Code to the right. Additionally, anyone may stop by any of our pick-up locations during normal business hours and pick up a book. "The 57 Bus" will be available for pick-up in Warner Hall, Room 133 throughout the entire academic year. We also have boxes housed in the Karrmann Library front desk and the Chancellor's Suite on our main campus, and via Beverly Simonds (UW-Baraboo Sauk Co) and via Sarah Stibbe (UW-Richland Center) at our branch campuses.
Have you had a lot of interest so far? Do you have any data on how many books you've given out?
From your perspective, why is "The 57 Bus" the book you chose for this year?
All information regarding the Campus Climate Book Club can be found on our website: https://campus.uwplatt.edu/campus-climate/campus-climate-book-club. The website also includes information on our book club meetings, which are scheduled to occur throughout the Fall 2019 semester.
Who can participate in the read? How can they get copies of the book?
October 2 October 8 October 15 October 31 November 5 November 15 November 19 December 4 December 10
Yes! We almost ran out of books before the academic year started, which is great news! We got another shipment in and have plenty to provide to folks now. We have given out over 300 copies and hope the engagement continues to grow!
Where can students and faculty/staff find information on discussions and events for the book?
For more information about the book club or any other Campus Climate events and resources, contact us at [email protected] / 608.342.6179 or visit us in Warner Hall, Room 114.
Upcoming Discussion Sessions:
9:00 – 10:00 a.m. 12:00 – 1:00 p.m. 3:00 – 4:00 p.m. 9:00 – 10:00 a.m. 12:00 – 1:00 p.m. 9:00 – 10:00 a.m. 3:00 – 4:00 p.m. 9:00 – 10:00 a.m. 12:00 – 1:00 p.m.