Declining Enrollment Leads to Budget Crisis
University of Wisconsin – Platteville faces a structural budget deficit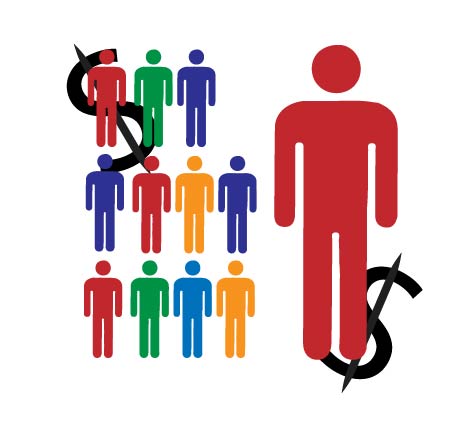 Declining student-age populations across the Midwest has left many universities with decreased tuition revenue, and University of Wisconsin-Platteville is no exception. In fact, according to a document that Vice Chancellor Paige Smith presented to both Faculty Senators and the University Budget Commission in Feb. 2020, the university costs $191.3 million to run for the 2019-2020 school year. As enrollment drops, the university faces a looming structural deficit.
According to the chair of the University Budget Commission (UBC) Teresa Burns, the State of Wisconsin at one time paid nearly half of the university's operating costs. However, in recent years, the state has decreased their funding to only pay 15 percent.
With the decrease of state funding, UW-Platteville relies on tuition to maintain financial stability. Prior to 2015, UW-Platteville saw 11 straight years of growth in undergraduate student enrollment, with enrollment peaking in 2014 at 7,975 undergraduate students according to a campus announcement from the Chancellor's office.
During the 11 years of increasing enrollment, whenever the total increased by roughly 100 students, a new staff member could be hired in order to maintain the low student-to-professor ratio that the university advertises, according to an estimate given to the UBC.
Since its peak in 2014, enrollment has declined steadily in part due to the 3 percent decrease in Wisconsin high school graduates. A statement from the Chancellor's office confirmed that enrollment has declined by approximately 900 students or 12 percent in the last three years.
The tuition revenue decrease caused by declining enrollment has led to a $7.8 million deficit that is only going to increase as enrollment continues to go down.
This structural deficit has been covered by reducing budgets of different departments of the university including athletics, academic affairs and administrative services.
Enrollment is projected to continue declining. According to a campus announcement from the Chancellor's office, the university will see a decline in enrollment of approximately 200 students a year until the 2025/2026 school year. The decrease in enrollment will create another $7.5 million deficit.
The Chancellor, with the help of divisional leaders, is working to reduce the current budget by 14 percent in order to prepare for the current and projected declining enrollment.
According to a campus announcement from the Chancellor's office, a solution to the projected deficit could be increasing tuition by 1-2 percent. A 2 percent increase would provide a $3 million tuition revenue by 2025.
Solely increasing tuition by 1-2 percent would not provide enough additional revenue to make up for the deficit. It would also negatively effect students.
The Chancellor also proposed adding program fees on to the Engineering programs since they cost more per credit hour. By adding a $700 program fee every semester to engineering students, the university could gain a $3.4 million annual tuition revenue.
Another proposed solution to the deficit is the Voluntary Separation Incentive Program (VSIP) which would theoretically decrease faculty as enrollment decreases. This program is designed to incentivize early retirement for eligible faculty and staff members.
According to a campus announcement outlining the program, to be eligible for the VSIP, a faculty member must be 55 years old or older and must have been employed at UW-Platteville for at least five years. In turn, they would receive a one-time payment of one-third their current base salary in addition to normal retirement benefits.
In order to lessen the effects of declining enrollment, the admissions office is also working diligently to connect with more prospective students.