Football wins despite early miscues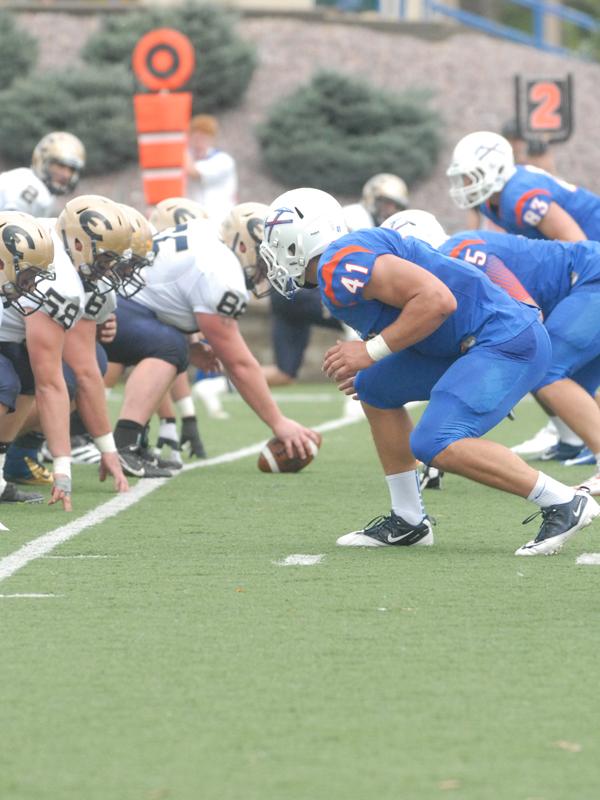 Steve Bus, Staff Reporter
October 9, 2013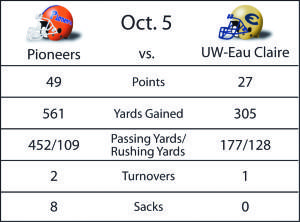 A record-setting performance from senior quarterback John Kelly and a stout defense in the second half helped the Pioneer football team (4-0, 1-0 WIAC) pull away from the University of Wisconsin-Eau Claire (0-4, 0-1 WIAC) Saturday, 49-27.
Kelly threw seven touchdown passes in the Homecoming game win, breaking a university record that stood for 53 years.  The performance garnered him the award of All-WIAC Offensive Player of the Week and named to the D3football.com Team of the Week.
Kelly credited his play to the Pioneers' offensive line, which kept Kelly from being sacked for the fourth time this season.
"They dominated the front all day, and we were able to run the ball well, which opened up the passing game," Kelly said.
Six different players caught touchdowns in the game, which also set a new university record.
"That's pretty amazing to have six different guys catch touchdowns," Pioneer head coach Mike Emendorfer said.  "Kelly played outstanding and we have a lot of guys at receiver that create mismatches."
A key mismatch that Kelly found often was senior receiver Ryley Bailey, who caught 10 passes for 145 yards and one touchdown.
While the final score looked like a University of Wisconsin-Platteville blowout, the game's outcome was in question until late in the fourth quarter.
"We knew this game was going to be a dogfight.  Eau Claire is a great team, and they played three really good teams before us, and we were lucky to come out on top tonight," Bailey said.
UW-Platteville found themselves down at halftime for the first time in 2013, trailing 20-14 after the Blugolds drove down the field for a late score, set up by a goal line fumble from Pioneer senior running back Lee Vlasak.
Aside from Vlasak's fumble, the Pioneers had a number of other miscues, including a muffed punt and a missed field goal attempt.
"Obviously I was disappointed with some of the mistakes that we made today, but I was happy that we didn't get rattled and we continued to fight," Emendorfer said.
The Pioneers received the second half kickoff and moved down the field quickly, taking just four plays to get the go-ahead score, capped off with an 18-yard connection from Kelly to Bailey.
However, the Blugolds responded with a dynamic kick return from sophomore Clint Larsen, who knifed through the Pioneers for a 98-yard touchdown.
The Pioneers answered with another quick touchdown to retake the lead 28-27, as Vlasak hauled in a 10-yard pass from Kelly.
The Pioneer defense took control of the game from there, as the Blugolds' powerful running back senior Joel Sweeney began to show signs of fatigue.
Despite 27 carries and 130 yards from Sweeney, the Blugold offense was unable to score in the second half.
UW-Platteville's front seven played a major role in the second-half shut out, as junior linebacker Jacob Zilbar tallied a team-high 13 total tackles and freshman defensive end Alex Johnson recorded 3.5 sacks.
Senior defensive tackle Mike Gabbey helped with two tackles for a loss on third downs, stopping Blugold drives.
"Our defensive coaches made some adjustments to our schemes at halftime.  I think we were so worried about Joel Sweeney in the first half, and then when we took a lead in the second, we were able to apply more pressure," Emendorfer said.
The Pioneers recorded eight sacks on UW-Eau Claire quarterback Mark Munger.
UW-Platteville scored three touchdowns in the fourth quarter, all on drives of five plays or less.
Kelly finished the day 32-39 passing and 442 yards.  Sophomore receiver Quinn Buschbacher had seven catches and two touchdowns, while Vlasak ended up with 97 rushing yards on 15 attempts and 33-yards on three catches.
The Pioneers travel to the University of Wisconsin-River Falls (0-4, 0-1 WIAC) this Saturday for a 1 p.m. kickoff.