No. 7 Pioneers rout Falcons, improve to 5-0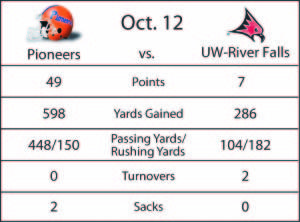 After falling behind in the first half of the past two weeks' games, the University of Wisconsin-Platteville football team (5-0, 2-0 WIAC) took care of business early Oct. 12 with a 49-7 blowout victory over the University of Wisconsin-River Falls Falcons (0-5, 0-2 WIAC).
The Pioneers got on the scoreboard quickly after driving 70 yards in eight plays on the game's first possession, finished by a six-yard touchdown pass from senior quarterback John Kelly to junior receiver Trevor Whitehead.
UW-Platteville's defense forced a turnover on the Falcons' first possession as freshman defensive lineman Andrew Robinson picked off a pass and returned it to the UW-River Falls 28 yard-line. Five plays later, Kelly took the ball in for a score on a two-yard run.
The offense slowed later in the first quarter as the Pioneers turned the ball over on downs twice.
When the second quarter began, the UW-Platteville offense got back on the scoreboard with a 97-yard drive, as Kelly found Whitehead in the end zone again for a score from nine yards out.
After forcing a punt, the Pioneers marched down the field for another score just before the half as senior running back Lee Vlasak punched one in from the four yard-line and UW-Platteville took a 28-0 lead into halftime.
After the teams traded punts, UW-River Falls showed their only signs of life on offense using the running game to drive down the field. An effective play-action pass play on the goal line scored the Falcons' lone touchdown of the game.
UW-Platteville answered with a five-play drive to score again as Kelly found senior receiver Ryley Bailey for 16 yards into the end zone.
The Pioneer defense recovered a Falcon fumble on their next drive and Kelly struck quickly finding senior receiver Paul Reit for a nine-yard score, putting the score to 42-7. Reit shined in the Pioneers' fifth game of the year hauling in 13 passes for 193 yards and the score.
Bailey also went over 100 yards receiving on the day bringing in nine catches for 109 yards.
With the game secure, Kelly took a spot on the bench as junior quarterback Bryce Corrigan led the game's final scoring drive, taking the Pioneers offense 80 yards in 12 plays, connecting with sophomore Quinn Buschbacher in the middle of the end zone for an eight-yard score.
The Pioneers take their undefeated record on the road again this week, facing University of Wisconsin-Stevens Point (4-1, 2-0 WIAC) on Saturday. The Pointers are coming off a 23-17 overtime victory over University of Wisconsin-Eau Claire.