Football grinds out 20-10 win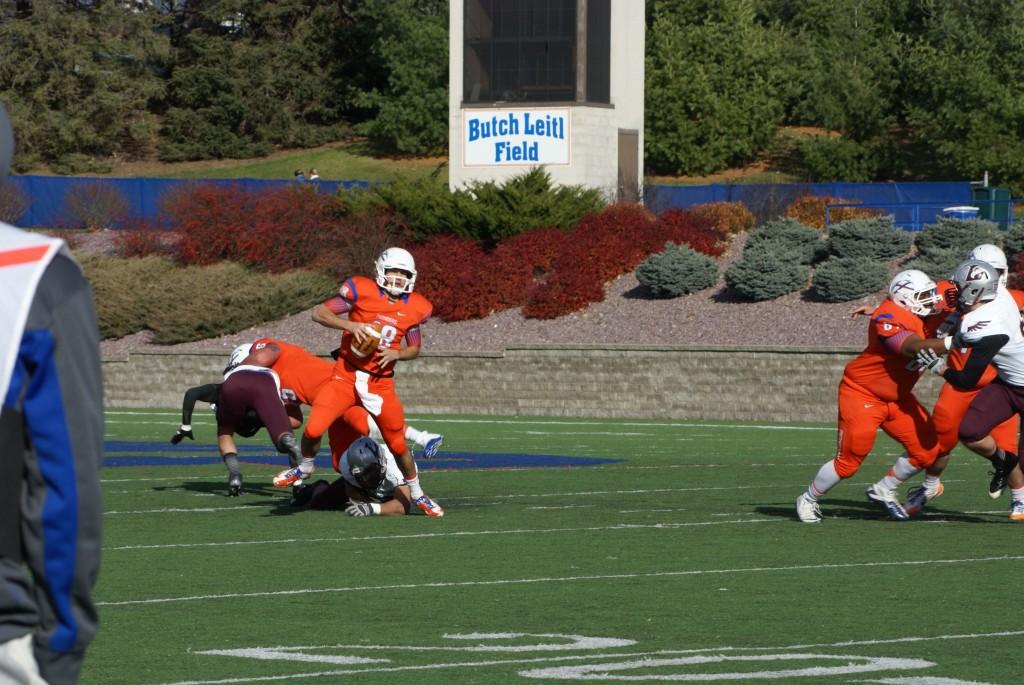 Topher Scheeler, Student Writer
November 14, 2013
Good teams find ways to win.
That is exactly what the 11th-ranked University of Wisconsin-Platteville Pioneers (8-1 overall, 5-1 WIAC) did as they squared off against the University of Wisconsin-La Crosse Eagles (3-6 overall, 3-3 WIAC) 20-10 on Nov. 9.
The Pioneer football team, normally regarded for their high-flying aerial attack and potent high-scoring offense, were forced to find another way to win in a low-scoring grind of a contest.
The Pioneers got off to a slow start, yielding only six points on three possessions in a penalty-riddled first half.
"Penalties hurt us in the first half. I thought we could have had one or two scores, even though we only had the ball three times," head coach Mike Emendorfer said. "Both offenses were moving the football, but neither could find the end zone."
"The penalties are something we really have to work on," senior quarterback John Kelly said. "We need to be more disciplined. We were able to march down the field, but penalties kept setting us back. We drove probably 120 yards on three different drives in the first half and were only able to come away with a pair of field goals."
The Pioneers turned it around after halftime, putting an end to the costly penalties and finding ways to get the football in the end zone.
"We just had to get our heads back on. To a certain extent, we thought this game was going to be a cakewalk; anybody in the league can beat anyone at anytime. We had to refocus to stay on course," Emendorfer said.
UW-La Crosse managed to slow the usual potent Pioneer passing attack, but the UW-Platteville rushing game answered the call with a monster game.
Junior running back Andy Puccini led the way with 221 yards on 31 carries.
"They were playing soft on us, so we took what they gave us in the running game," Kelly said.
The rushing effort was made more impressive by the fact that the Pioneers had two offensive linemen Mike Baird and Brett Jerdee making their first starts of the year.
"They (Baird and Jerdee) were two tackles to get their first starts due to injuries, and were able to come in and give us a good performance," Emendorfer said.
"The defense was giving us a five-man box and the offensive line was able to give us a good push into the secondary, so it made my job rather easy," Puccini said. "Once we got to the secondary, there was space for big plays."
The Pioneer defense did their part in making sure the low-scoring contest stayed in the Pioneers' favor, holding the Eagles to only 3 points through 58 minutes of play.
"The defense did a great job. Everyone was a little disappointed giving up that late score, but it took almost two full possessions for them to score from only about five yards out," Emendorfer said. "They were able to move the ball against us, but we were able to keep them out of the end zone."
Freshman Andrew Robinson performed well for the Pioneers, as he recorded two sacks, giving him 8.5 sacks on the year, and sophomore safety Devon Vance tallied six solo tackles.
"I believe usually the team that has the most depth and the better players finds a way to win, and I think we did that today," Emendorfer said. "It wasn't the prettiest game, but we are now 8-1 and that is all that matters."
The Pioneers will look to continue their push for the playoffs next week, as they face off against University of Wisconsin-Oshkosh (8-1 overall, 5-1 WIAC).
Both UW-Platteville and the Titans' lone loss is to University of Wisconsin-Whitewater, giving the Warhawks at least a share of the WIAC title, but the winner between the Pioneers and UW-Oshkosh will have a great chance to earn an at-large bid to the NCAA Division III Football Championship Tournament.
Kickoff is set for 2:00 p.m. Saturday at UW-Oshkosh.