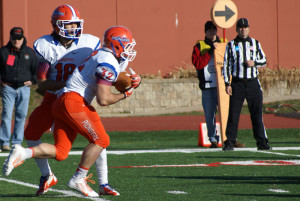 The best season in recent history for Pioneer football saw its final play Nov. 30.
The University of Wisconsin-Platteville team's playoff run was halted by North Central College in the second round of the NCAA Division III Football Championship Tournament, as the Cardinals ousted the Pioneers in a 52-24 drubbing.
However, to reach its final game at North Central, the Pioneers hosted Concordia Nov. 23, defeating the Falcons 54-20.
UW-Platteville struck first against Concordia, moving down the field in 11 plays, scoring their first playoff touchdown on a 27-yard pass from senior quarterback John Kelly to junior receiver Trevor Whitehead.
Junior running back Andy Puccini capped off two first-half drives with short rushing touchdowns, giving the Pioneers a 21-0 lead. The Cardinals got on the board after a good kick return got them in Pioneer territory, scoring a touchdown on a run from three yards out.
UW-Platteville answered with a three minute drive, capped off by a nine-yard touchdown snagged by senior receiver Paul Reit, giving the Pioneers a 28-7 lead going into the halftime break.
Reit started the second half off with another score, this time a catch-and-run from 39 yards out to expand the lead. The Pioneers took out many of their starters and their defense iced the game with a safety early in the fourth quarter.
The roles were reversed last Saturday. North Central College racked up 21 first-quarter points, while the Pioneers squandered their best scoring chance in the first quarter when Kelly threw an interception in the red zone.
UW-Platteville then traded touchdowns with the Cardinals, as the teams scored 14 points each in the second quarter, giving North Central a 35-17 lead at the half.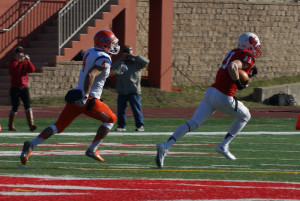 Senior receiver Ryley Bailey caught two touchdowns in the game, one in the second quarter and the other in the third, which ended up being the team's last touchdown.
Fourth-ranked North Central used its running game to gash the Pioneers, as running back Ryan Kent amassed 257 yards rushing on 27 attempts, scoring four of the Cardinals' seven touchdowns.
The Pioneers went 10-2 overall, 6-1 in the WIAC, the best record ever achieved under current head coach Mike Emendorfer. The playoff berth was the first in the program's history.