Cross and Gerber honored, team heads to WIAC tournament with win over Falcons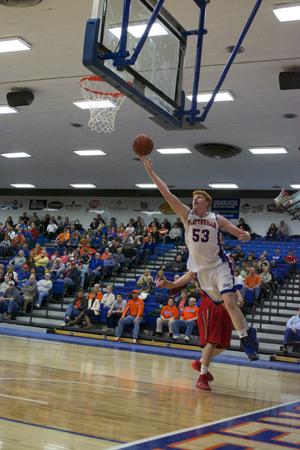 On Feb. 22, the University of Wisconsin-Platteville men's basketball team defeated University of Wisconsin-River Falls 69-60 on Senior Night, but the win was bittersweet, as some Pioneers experienced their final, regular season game of their college careers.
Senior Night at Bo Ryan Court provided a positive vibe for the team and enhanced the team's energy throughout the game, which ended up being a tight contest.
Senior center Chas Cross hit eight of his nine shots for the team, tallying 21 total, with junior guard Wes Nemitz and sophomore guard Boston Johnson close behind, adding 16 and 14, respectively.
Nemitz was a huge spark off the bench, going 3-4 from the three-point range in a two-minute time span.
"Wes [Nemitz] really stepped up for us in the second half," senior guard Eric Gerber said.
Gerber has managed to establish himself as a team leader throughout the course of the Pioneers' season, and he has played in every Pioneer contest since his arrival at the university in 2010, as well.
Head coach Jeff Gard reflected on Gerber's overall performance on the team.
"I couldn't be more proud. Like a dad, almost," Gard said.
Seniors Gerber and Cross played well, as they have consistently performed throughout the previous four years.
"These two guys have meant a lot to this program," Gard said.
Gerber expressed his profound joy as a prominent member of the team, expressing admiration for the team's win, as well.
"It's been a fun four years. Tonight, I got to celebrate with a great group of guys," Gerber said.
The team endured several rough patches throughout the season, with the lead shifting six times in the thirty minutes of play.
UW-River Falls' starter Ollie White led the Falcons with 19 points, while Devin Buckley put up 15 and Ben Gresmer added 13.
Cross, who broke the single-season blocks record with 55, is also a four-year player for the Pioneers and recorded his fourth double-double on the season, pulling in 10 rebounds to go with his 21 points.
"We needed to come out with a lot of energy. This was the last game, but no matter what, we were going to play in the tournament," Cross said.
Being the final, regular season game for the Pioneers, they now focus their aim towards the WIAC Conference Tournament.
The tournament will begin on Feb. 26, where the Pioneers will face off against University of Wisconsin-Stout, who they defeated in their previous contest, breaking the Pioneers' four-game losing streak.
"It's going to be a physical game. We're looking forward to the challenge," Gerber said.
Cross is focused on fine-tuning the plays, as they approach their third contest against an aggressive UW-Stout.
"We have to reevaluate ourselves and see what we need to get better at before Wednesday," Cross said.
Gard understands that each game is important for the team's success and he remains focused on the team's overall success throughout the year.
"It's a one-game-at-a-time mentality. They've got to put the work in and they'll take care of business Wednesday night," Gard said.