Men's basketball team takes landslide win over UW-Eau Claire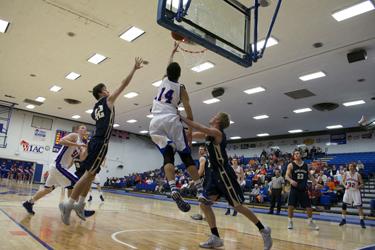 The University of Wisconsin-Platteville men's basketball team is another step closer to the playoffs after defeating University of Wisconsin-Eau Claire with an astounding final score of 60-34 on Feb. 19 at Bo Ryan Court.
After a rough four-game losing streak, the Pioneers have been picking up the pace throughout the last couple of games, as crunch time for playoffs is in effect.
Although UW-Eau Claire began the game with a 4-2 lead, the Pioneers quickly surpassed them with a score of 35-15 at halftime.
Platteville's assistant coach Marcus Conigliaro expressed his excitement about the win, addressing the star player of the night, who assisted in the team's victory: junior forward Jake Manning.
"Jake Manning played really well. He did some good things on the offensive end. He rebounded the ball well, finished at the rim and got to the free throw line well," Conigliaro said.
Manning stood out in the game as the top-scorer of the night, but Conigliaro understood that the win was conducted by a team effort.
"All around, it was a pretty balanced attack," Conigliaro said. "I think Chas [Cross] played well and Jim Stocki got some three-pointers that helped us out."
Manning led the team in scoring for the second game in a row, with 13 points and seven rebounds.
"We played good as a team and moved the ball a lot. We also rebounded really well," Manning said. "Our defense was on top. The other team only scored around 30 points, so clearly that takes team effort through our defense."
Manning continued to exude confidence when expressing the team's preparation for the playoffs.
"We went through a rough patch earlier, but lately, we've been picking it up and we're definitely hitting our stride at the right time," Manning said.
Setting a new school career blocks record with a total of 131, senior center Chas Cross made his defensive presence known against UW-Eau Claire.
Cross scored 11 points and grabbed five rebounds, leading to the big win.
"We were preparing all week, trying to gear ourselves for the playoff run," Cross said. "We are just trying to play our best games, as we're getting close to the playoffs. We came out with a lot of energy tonight, got on a good run and strung a few stops together to get a good lead."
Cross also conveyed his optimism about the well-rounded team play, as the end of the season approaches, and he also explained how playing together is crucial at this time of the year.
"We were all 'geling' and that's exactly what we need this time of year. Being able to gel and having everyone play well is key," Cross said.
The Pioneers have immense confidence and enthusiasm for what the remainder of the season will being them.