Titans take over, baseball team expects more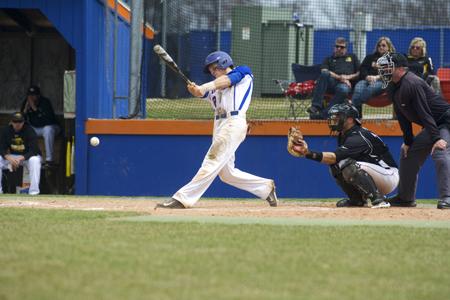 Sara Newquist, News Editor
April 17, 2014
Hang on for a minute...we're trying to find some more stories you might like.
The University of Wisconsin-Platteville's baseball team lost both games to the University of Wisconsin-Oshkosh during their doubleheader on April 12.
This loss is the sixth one throughout the UW-Platteville baseball team's losing streak this season.
Although the Pioneers held a 3-2 lead until the third inning during the first game and a 7-3 lead during the sixth, UW-Oshkosh regained the upperhand and won the first game 11-7.
"We had trouble once again with getting people out. We ran a bunch of guys up there that don't have experience in the WIAC yet, and they'll learn the hard way that we have to make pitches one at a time," Head Coach Eric Frese said. "We're seeing some good things at times."
During the second game, UW-Oshkosh was ahead 7-0 in the third inning.
Although the Pioneers were able to impact the scoreboard in the game during a later inning, 7-3, they lost the second game 10-3.
"Unfortunately, we're not winning games and wins are what everyone wants. We have to clean up our pitching and our defense," Frese said. "We still have to continue to get these young guys to get some quality pitches and work on getting people out."
Despite their losing streak, the Pioneers maintain a confident mindset and strongly believe that they will improve their tactics and overall performance this season.
However, senior outfielder Ryan Duva admitted that some issues require immense individual work.
"I absolutely love this group of guys; they want to win and they have the best mindset to try to work hard. There are going to be good things in the future for this group," Duva said.
"Our biggest problem right now is that our younger guys haven't quite learned the finer details of the game. [We need to] forget the past and play just one pitch at a time."
Aside from individual progress as a baseball player, sophomore infielder George Jester III conveyed that they need to grow as a team in order to become more successful.
"We're very capable of beating this team, any team. We just have to start having fun," Jester said. "We're going to work on fielding those lazy fly balls. We're doing good work on getting our feet together on those grounders and [we need to] work on getting better all around."
Duva continued to express his determination that the baseball team will have a better season.
"We have it. It's going to come, but we just have to put the whole entire thing together," Duva said.