Not even tornado will stop Pioneers from taking home field advantage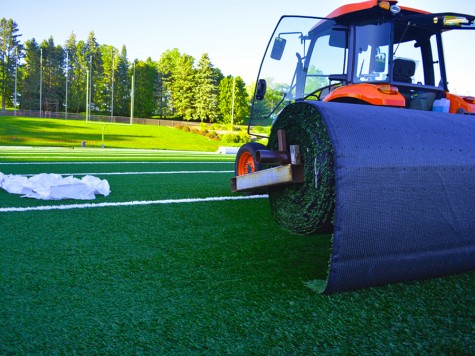 As a new school year begins at the University of Wisconsin-Platteville, the Pioneer Football team is presented with challenges foreign to past seasons. Ranked eighth in the nation, the team of players and coaches are not only making plans to build upon the strong foundation created during last season with a record of 10-2, but to also put devastation behind them.
On June 16 UW-Platteville was rocked by an EF-2 tornado. The university and surrounding community sustained millions of dollars in damage. One area affected was Ralph E. Davis Pioneer Stadium.
The stadium's concrete slabs that supported the bleachers were shifted, which warped the seating area. In addition, large light posts were bent sending shattered glass across the field. The remnants from the storm have required the university to replace the turf two years prior to original plan, making the field unusable for camp and pre-season practices for the football team, as well as the Men's and Women's soccer teams.
"For now, football practices will take place on Miner's Field. It is a field that the university owns, located right inside the community," Mike Emendorfer, head football coach, said. "There are also going to be three or four times where we bus our team to Dubuque Senior High School because they have the synthetic grass that our stadium has. This will give us the opportunity to practice on a game field."
The team learned to adapt to commuting to practices for camp, which consisted of a schedule that ran from 7:00 a.m. to 10:00 p.m., a schedule that Emendorfer refers to as 'boot camp without anybody shooting at you'.
The National Collegiate Athletic Association requires that all teams follow a specific practicing format, which allows each team to conduct 25 practices prior to the first game of the season. During the first five days after the first game, the teams are allowed to take part in two-a-day practices. After those five days, the team must switch back to single practices.
"I think that we are looking at this season as a sense of celebration because there are a lot of new challenges in front us," Emendorfer said. "Now, the expectation of the Pioneer football team is that we will win. That's a challenge. We are looking at it as a good way for us to start out the season, being a little uncomfortable with the adjustments that we have had to make and finding out how we will handle that as a team with players and coaches together."
Standout players for the 2014 season include defensive back Rob Austin and linebacker Jacob Zilbar. Both players were named pre-season All-Americans.
"It was an honor being named pre-season All-American. It means teammates and coaches from other teams I have played against are giving me recognition," Austin said. "It shows that I must be doing something right."
Austin sees the adversity the team has had to face as somewhat of a competitive edge.
"Unlike most teams we have to take the time to commute, which means taking more time out of our day to stay focused and bond as a team," Austin said. "In a way, this is really keeping us together so we can focus on the task at hand."
Similarly, Emendorfer recognizes having to practice on multiple playing surfaces as just another obstacle his team will successfully endure.
Emendorfer says that he and the rest of the coaching staff are looking forward to working with players returning from injury such as junior linebacker Andrew Belken, who suffered a disappointing season-ending hip injury, as well as junior linebacker Alex Johnson who last season, sustained a broken thumb.
The team is also anticipating bringing forward a refined offense with senior Bryce Corrigan as quarterback.
"We have Bryce, who two years ago was second in all-conference and MVP of our team," Emendorfer said. "Bryce is an awfully good quarterback."
Among other things, the team, as well as the fans, are awaiting the debut of the new turf design which was chosen in early August.
"The thing we added to the design that wasn't on the field last time was that we actually put UW-Platteville on field," Emendorfer said. "Now, if anyone takes a picture from up top you are going to see the school name and everyone is going to know it's UW-Platteville's stadium."
The team is paying special attention to individual drills, new plays and special teams in preparation for the season opener against Buena Vista University.
"I am always nervous before every game but this particular game is the one where you see how your players are going to respond," Emendorfer said. "We will have some new players playing for the first time in varsity action as well as a lot of returning players. You just want to know how those players are going to respond in a game-like situation."
Amidst difficult schedules and being uprooted from the comforts of their home field, Emendorfer and his team remain positive, are forming team bonds as they approach the first game, and are leaving the rubble of the tornado behind.
"It is about hard work," Emendorfer said. " But I am also a big believer in humor. If you can get a team that can laugh together they will play together. We strive to make that happen."
The Pioneers compete against the Beavers of Buena Vista on Saturday Sept. 6 at 1pm at Peterson Field in Storm Lake, Iowa.