Football team tests high-tech helmet technology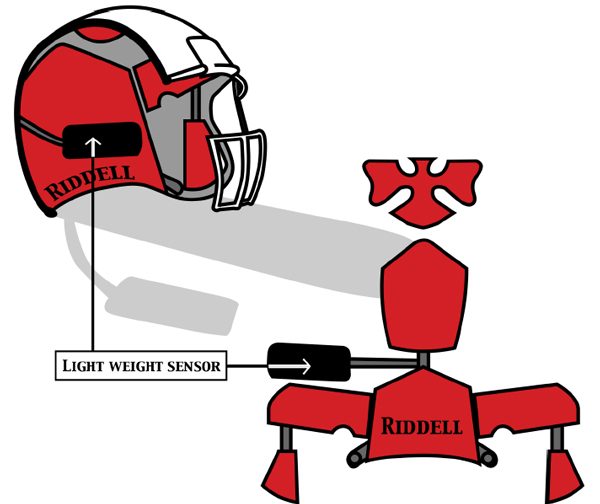 This fall the UW-Platteville football team began using a new system to monitor its players. The coaching staff received the Riddell Insite Impact Response System through a sales representative for Riddell Team Sales who offered a deal to the athletic and training staff.
The system is designed to be a less costly method designed from data obtained through the Sideline Response System. This system detects head impact using a covering on the inside of the helmet which identifies and alerts to hits based on linear and rotational acceleration, duration and location of contact.
Head athletic trainer Ryanne Breckenridge explained that while there is an alert system that can alert a member of the coaching or training staff on the sideline carrying a small hand-held monitor, the device does not diagnose concussions.
"The system is designed to gather information which can be used to give staff the ability to locate players or groups of players who are registering many or hard hits and alter practices or change player form to prevent injury," Breckenridge said.
Breckenridge explained the team has 12 players with this system in each of their helmets. Head football coach Mike Emendorfer said that the 12 players are some of the most active players from the various positions for the best data collection.
"Because of the tornado damage and aftermath, even though the team received the systems this summer we really started using them during the third or fourth week of the season," Emendorfer said. "Using this system sent a clear message to players that safety is the number one priority."
By using this system in connection with the reduction of contact during practice over the years and purchasing more expensive, but safer, helmets could help protect the players.
Currently UW-Whitewater also uses the Riddell Impact Response System and Riddell is working to receive feedback from teams using the Insite system to help improve it.