Florida results provide optimism for a tough 2015 softball season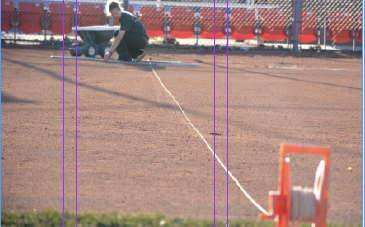 The University of Wisconsin-Platteville softball team enters into a new season full of potential. There are talented new starters and returning veterans, but the Wisconsin Intercollegiate Athletic Conference is as tough as ever.
The Pioneers enter this season after a trip to Florida for spring training. They went 8-6 in the competitive tournament, marking up 54 runs, and batting .266. The biggest factor was not the competition, the lack of experience or the traveling: it was the weather conditions.
"It's tough to go from having only a couple practices outside in the football stadium in Platteville to being outside on dirt and grass in 85 degree heat every day in Florida, but the players handled it really well," head coach Lee Negrelli said.
The spring training trip assisted the team in a productive kick start to the year. The women did not have much free time as they played two games every day of the trip besides one day of rest. Senior psychology major and left fielder MJ Patten said that this trip did a lot for practice, but even more for morale.
"Playing 14 games in Florida was just what we needed to liven our spirits. The weather was amazing and it refreshed all of us," Patten said. "We play better when everyone is excited and active in cheering one another on."
The Pioneers are headed into the season fully aware of the competitiveness of the WIAC. After finishing in sixth place last season, UW-Platteville will take on conference competitors like UW-Stout and UW-Whitewater with confidence.
"The WIAC is always tough, but our goal is to make it to the conference tournament. Once we're in the tournament, it's like a whole new season and we can shift our focus on to winning it, but step one is getting there," Negrelli said.
The Pioneers will have several starters returning from last season, in which they finished at 5-10 in conference play. Haley Salazar, Katie Huss, Lisa Karau, Chelsey Walker, MJ Patten, Jess Butzen, Carley Rote and Keri Treml will all return in blue and orange this season. Keri Treml junior elementary education major and pitcher, will take the mound for the Pioneers in her third consecutive season, as they strive to earn a conference championship.
"I'm really excited for conference play. We definitely play better against good teams. As a team, we hit better off of better pitching, and the WIAC guarantees us just that," Treml said.
A solid group of returning players as well as new talent arms the team with the potential to make a playoff run at the end of the season. Freshmen players have already made an impact on the team while in Florida, with Rachel Romps and Jordan Schimke seeing some time on the mound, and Kelsie Jo Endres catching every game for the Pioneers so far this season. Shannon Books and LaRissa O'Kimosh are two freshmen that have also started already this year, seeing some time in the outfield over the spring break trip.
The coach and the players are confident and hopeful that by the end of the season they will have accomplished an improved record from previous seasons.
"Overall, I feel we are more talented, and our record should reflect that," Negrelli said.