Scott Sibik: goalkeeper, role model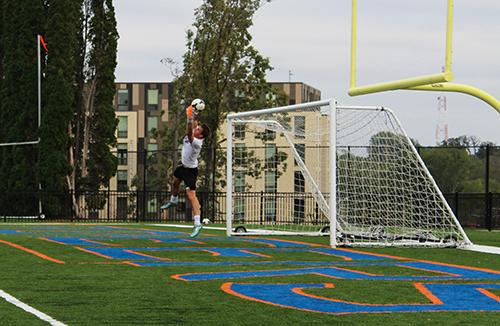 Senior goalkeeper Scott Sibik has been playing soccer for as long as he can remember, and played strictly as goalie since he was about 8-years-old. He credits his sisters as being his role models when he was younger. He wanted to be like them and that meant playing sports. Along with soccer, he also plays hockey and water sports.
"Scott came in as a freshmen and he knew he had some big shoes to fill," head soccer coach Lorenzo Fuschino said. "He worked hard, but what really made him what he is today is his work in the off-season. He came in prepared to play at a high level this year."
Sibik was all-region last season and Fuschino said he hopes that he will be all-American this season. Sibik also has high expectations of himself.
"As a goalie I always go for a shutout. If you get a shutout you can't lose a game," Sibik said. "When it comes down to things the biggest goal is to get that win. Individual stats don't really mean a whole lot to me. They're nice accomplishments to base your career off of but the most important stat is the 'W' column."
As one of the team captains, Fuschino said that Sibik is a great leader on and off the field.
"He leads by example and shows the younger players what it takes to get to the next level, both on the field and in the classroom," Fuschino said. "He's a role model and he's a class act. I'm going to miss his smile at practice and his growth on the team."
After this season, Sibik will no longer play goalkeeper. He won't leave the team empty-handed though.
"I'll stick around and help the team next year, whether it's helping the goalies or not," Sibik said.
He is in the fourth of his five-year accounting program. When he graduates he hopes to work for a Certified Public Accountant (CPA) firm and get his certification.
"I feel like I have a lot of good opportunities for jobs and I'm excited to get out into the real world," Sibik said.
Sibik said fter graduation he hopes to still be involved in sports, whether it's hockey or soccer. He wants to either coach or play in leagues.
"I'm going to miss the competitiveness of soccer," said Sibik. "I always look to compete with myself, [my] teammates or another team, it's been a motivation and driving factor in my life."
He's also going to miss his teammates. "It's hard to break the bonds but I will hopefully stay in touch with them all," Sibik said.
Sibik recalls his freshmen year when the team entered the Sweet 16 as one of his best memories during his four years of playing for the Pioneers. Even though he didn't play that year he said it was still great to see how the team went so far; to see the process of getting there and how hard the seniors and upperclassmen worked.
"It's been a great experience and I'm glad I chose to pursue the student-athlete career," Sibik said.
Fuschino had advice for all of his graduating players. "Always be humble, keep your feet on the ground; not only on the field, but in real life as well," Fuschino said.