Swanson's Sparkles spread across midwest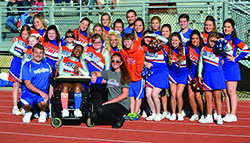 Entering their fourth year, the University of Wisconsin-Platteville's Pioneer Sparkles continue to be an example of inclusion, participation and opportunity among collegiate athletic activities. The Sparkles are the first special needs collegiate cheer team in the nation and were brought together by senior media studies major Shelby Swanson in 2012.
"The first year made a huge impact on the school, cheerleaders and the Sparkles, because they never really did a sport before and have been told that they couldn't do sports," Swanson said.
Swanson said that her biggest accomplishment was being able to get the program started. This year the recruitment process took Swanson to several different cities because there were only a few returning members. This year's squad includes 10-15 members whose ages range from 11-21. Swanson said availability depends on the members' varying health issues or time conflicts. Each Sparkle has a mentor that cheers along with them at games to make sure they stay on task and feel confident with their cheers.
The mentors are there to evaluate where the team is at, whether it be with stunts, cheers or game time. Because the girls get tired quickly, the Sparkles' cheer is limited to first half performances. This change limits the exhaustion and allows for a more rigorous first half.
"[The community] knows who the Sparkles are, which is really exciting for them and they love it when people recognize them," Swanson said.
Following the Pioneer Sparkles success, four more collegiate teams have formed throughout the tri-state area. Swanson hopes that more colleges start setting up their own squads so they can see how much it helps bring the community and the school together.
"For our program I hope to see new Sparkles join on," Swanson said. "It would be nice to see some new faces."
The Pioneer Sparkles are cheering this Saturday Oct. 24 at the football game against UW-Oshkosh.