Gray, yellow, more than just a color
Pioneer men's basketball fundraises for cancer awareness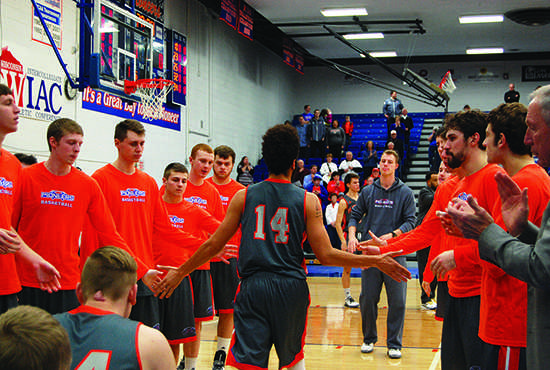 With over 100 types of cancer discovered, each has a supporting color that can be noticed by people nationwide. On January 30, 2016, the Pioneers took on the University of Wisconsin-Lacrosse Eagles during the Coaches vs. Cancer event.
"We wore the color gray to support brain cancer," senior Peyton River said.
"The coaches and our one injured player got to wear yellow laces to support pediatric cancer," senior Boston Johnson added.
The game was purposely set to take place during Suits And Sneakers Awareness Week, Jan. 25 to 31. Other colleges participating in the event this week were Edgewood College, UW-Madison, UW-Milwaukee, and UW-Parkside.
"I have been affiliated with the Wisconsin Chapter of Coaches vs. Cancer for nine years," Gard said. "Fundraising and awareness, that's what it's all about. We co-inside our game with the week [Suits And Sneakers Awareness Week] as most teams do."
Gard and his team explained that they approached this game in the same way as any other, however this time they had some additional motivation. "The team had an understanding that we were playing more than just basketball," Johnson said. "We were supporting brain cancer as well."
River added, "The motive for some of the guys that have been affected by cancer may have changed, but other than personal reasons the approach was the same."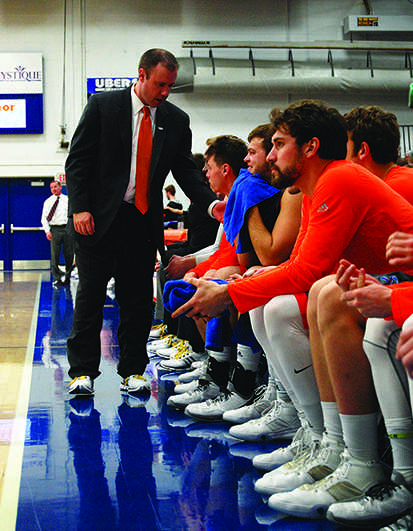 Johnson and River may not have had a personal motive, but Gard did. "I lost my father to brain cancer, so I continuing doing this to try to raise awareness for brain cancer," Gard said. "When my father lost his battle, my family and I decided that we would personally continue to help spread awareness and make donation for brain cancer research."
Gard was not the only person in the gym that night that has lost a father to cancer. "This game has a lot of meaning to me," Public Address Announcer, Jon Satterlee said, "I lost my father to prostate cancer." Satterlee's mother has also fought against breast cancer but is now two years cancer-free. "I'm sure cancer has affected everybody in this gym in one way or another," Satterlee stated.
To help fundraise money, the Pioneer dance team participated in the "bucket run" during the second half of the game where they collected $990.75. With the addition of spectator's personal checks, the Pioneers raised a total of $1,020.75 that will be evenly donated to three different cancer associations: UW-Carbone Center, American Cancer Society (ACS), and National Brain Tumor Society.
While the money collected during the bucket run will go to support all types of cancer, the yellow laces that were purchased for the coaches support an entirely different legacy. The specially designed pair of yellow laces was to promote pediatric cancer, particularly Michigan State University fan, Lacey Holsworth. Holsworth was 8-years-old when she lost her battle to cancer. In her memory, the Pioneer coaches bought a pair of Princess Lacey's Laces to help fundraise for ACS and Princess Lacey's Legacy.
"It was not only an opportunity to support our school, but also to support our coach and cancer as a whole," Johnson said.
The Pioneers lost their battle against the Eagles, 79-71 but the Coaches vs. Cancer battle was considered a win for Gard and his team.
"The biggest overall goal of the event was the fundraising," Gard said. "Personally I want the students and community to know that I have been through this experience first hand and I'm here to help." Gard leaves his office door open so that students and community members have the opportunity to reach out to him for advice and support. He also asks that if you are unable stop by his office that you contact him by phone or e-mail.
"Money is one thing," Gard said, "but awareness and support is crucial."