ATHLETE OF THE WEEK: HAILI COTA
Hometown: Oak Creek, WI Year: Freshman Major: Mechanical Engineering Sport: Softball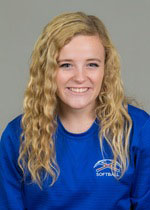 How old were you when you started softball?
I was four when I started playing tee-ball, but I did not start playing softball until I was eight.
Who inspired you to compete in softball?
My parents and my brothers.
Is competing in college more difficult than it was before you came here?
Yes, especially in the WIAC conference because there is a lot of talent which makes every school competitive.
Where do you see yourself in five years?
In five years, I hope to be working as an engineer on some kind of sustainable and renewable energies system.
What do you do outside of softball and school?
Outside of school and softball I like to listen to music, hang out with my friends and spend time outside.