ATHLETE OF THE WEEK: DREW PRESTON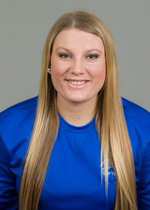 Hang on for a minute...we're trying to find some more stories you might like.
Hometown: Lanark, IL
Year: Sophomore
Major: Criminal Justice
Sport: Softball
How old were you when you started playing softball?
Around five.
Who inspired you to compete in softball?
My dad.
Is competing in college softball more difficult than it was before you came here?
Yes, it is more time consuming, and classes are also harder to make up.
Where do you see yourself in five years?
I see myself working in a [Criminal Justice] department, either in Madison or Rockford, IL area.
What do you do outside of softball and school?
I have a job and I hang out with friends, [I] don't have time for many other activities.