Athlete of the Week: Caelyn Steffens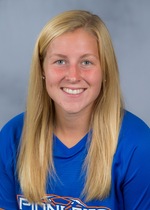 Hometown: Normal, IL
Year: Freshman
Major: Biology
Sport: Soccer 
How old were you when you started playing soccer?
I started playing soccer around the age of 6.
Who inspired you to compete in soccer?
My older brother inspired me because he was playing soccer at the time, too. He was really good. I would always watch his games so I could learn more about the game. I would also practice with him whenever I got the chance because I wanted to be just like him when I grew up.
Where do you see yourself in five years?
In 5 years, I am hoping to be getting a job as a physicians assistant for dermatology. I would like to get this job in my hometown or close to it because I would like to live in Normal again after college. 
What do you do outside of soccer and school?
Outside of school and soccer, I like to hang out with my friends and we go shopping and out to eat a lot.
Do you have any advice for players that aspire to join the team?
Some advice for incoming freshman is to work hard trying to improve your skills and strength leading up to the season, and when the season does begin, don't be nervous, just prove what you can do.