Milio's Athlete of the Week: Katie Jones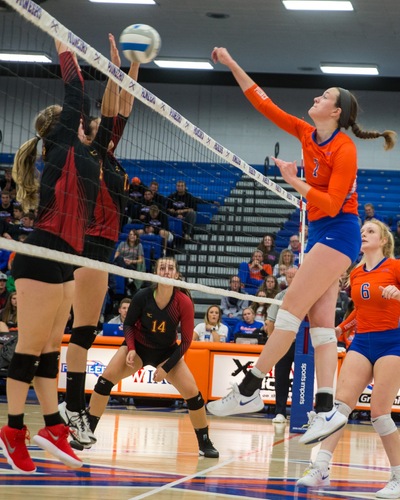 Hometown: Delavan, WI
Year: Senior
Major: Zoology
Sport: Volleyball
How old were you when you started playing volleyball?
I started playing volleyball when I was 11 years old.  I played club volleyball for Wisconsin Juniors and Milwaukee Sting throughout middle and high school.
What inspired you to start playing volleyball?
I have played volleyball for so long simply because I love the game.  I love learning new ways to improve my game and being a part of a team sport.  I compete as hard as I do to improve myself and my team.  I am thankful to be as tall as I am, as it helps me be a competitive hitter and blocker for my team.
Where do you see yourself in five years?
In 5 years I hope to see myself working with animals in one way or another.  I'd love to work at a zoo, aquarium, sanctuary or even a wildlife rehabilitation center.  I've loved animals for my entire life, so it only seems right to find a way to continue to be around them for work.  
What do you do outside of volleyball and school?
Outside of volleyball and school I like to paint, play adventure video games and spend time with my friends and family.  I also love to be around animals in any way that I can, whether it's by having pets, going to zoos or just being outside to see the wildlife.  I also love to stargaze.  I am obsessed with the stars, moon, sun, clouds, colors and everything natural in the beautiful sky.
What advice would you give to new players interested in volleyball?
Give every practice or game everything you have without worrying about the past or future plays.  It's really important for any athlete to focus on what you and your team are doing at that moment and not let the worries of the day affect you while in the gym.  Our team quote is "surrender the outcome."  To me that means to give it my all right now and accept the end result because I know I did everything I could in every moment, so there is nothing to stress about in any play of the game.