Milio's Athlete of the Week: Johanna Meister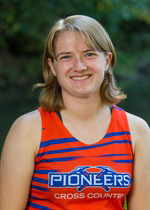 Year: Senior
Major: Mechanical Engineering
Sport: Cross Country
How old were you when you started running competitively?  
I started running competitively in 7th grade with my school's junior high team.
Who or what inspired you to compete in cross country?
My mom has always encouraged my running, and she got me to go out for the junior high team when I was in 7th grade.
Where do you see yourself in five years?
In five years, I hope to be a mechanical engineer working in the large machinery industry.  I also hope to help out the local high school's cross country program as a coach.
What do you do outside of cross country and school?
Outside of cross country and school, I like to spend time with my friends and family, read, watch movies and play piano.
Do you have any advice for freshmen trying to join the team?
My advice for the freshmen trying to join the team is to have fun and step out of your comfort zone, because if you do this, every day is a memorable adventure, especially with our cross country team!