ATHLETE OF THE WEEK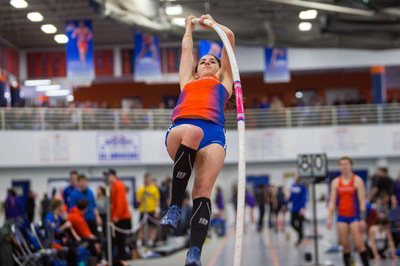 Name: Brittany Ehlen
Hometown: Burlington, WI
Major: Civil Engineering
Year: Senior
Sport: Track & Field
When did you start track & field?
I started track & field in the 8th grade, but I started pole-vaulting in my junior year here [at the University of Wisconsin-Platteville].
Do you remember your last win at a track meet?
Yes, last Friday [February 9] qualified me for nationals. I pole-vaulted 12 feet and two inches. Unofficially, my best vault is 12 feet and two and three quarter inches.
How do you prepare physically and mentally for a track & field meet?
It's mostly mental preparation. You have to get yourself into the zone and brush off doubt. It's not an easy thing to do, especially when you face setbacks. But, once you do, you can get past any obstacles. I try to go in calm and collected and not think about too much.
What advice do you have for track & field athletes?
At this level, you have to enjoy yourself more than worry about heights or runs. People do better when they enjoy themselves.
What advice do you have for pole-vaulting athletes?
Embrace the struggle. It's a really technical sport, and there's a lot to improve on. To get better you have to understand that.