ATHLETE OF THE WEEK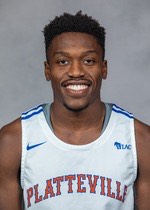 Name: Quentin Shields
Major: Biology
Hometown: Chicago
Year: Junior
What got you into playing basketball?
I got into basketball about 11 years ago after an unfortunate shooting where my older brother was critically shot. He was a basketball player at the time, and he helped me get into it after that.
What do you do to prepare yourself for a game?
Before each game I usually take a nap and listen to music.
What is your favorite memory while competing in college?
My favorite memory is competing in the NCAA tournament. The atmosphere is unmatched and the competition is at the highest level.
What is your advice to incoming freshmen who want to join the team?
My advice to incoming freshmen joining the team is to really value work ethic. Talent doesn't always come with work ethic, but if you possess both, nothing can prevent your success.