ATHLETE OF THE WEEK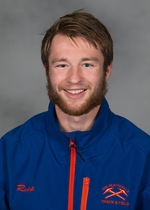 Name: Tonie Johnson
Hometown: Hixton, WI
Year: Senior
Major: Industrial Engineering
Minor: Biology
What got you into competing in track and field?
I wanted to have something that could provide me with a challenge yet have fun at the same time.
What events do you compete in?
I compete in the middle-distance events, which consist of the 400 meter and the 800 meter.
How do you prepare for a meet?
I prepare for a meet by making sure I am focused on what I am trying to accomplish during that race and making sure I have a plan for how I am going to achieve that goal.
What is your favorite memory?
My favorite memory is when the 4×4 relay team and I competed at nationals in Naperville, Illinois in 2017.