Men's Basketball: UW-Platteville vs. UW-Eau Claire
Pioneers lose in intense, overtime nail-biter against Blugolds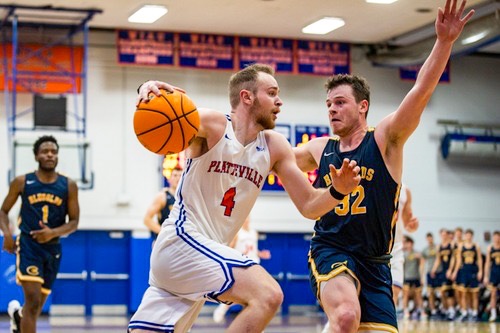 An incredible game on Wednesday, Feb. 8 ended up giving the UW-Eau Claire Blugolds the win over the UW-Platteville Pioneer men's basketball team. This was Platteville's final home game of the regular season.

This basketball match was extremely competitive with only a few point leads that went back and forth between both teams. It led to an overtime period where the Blugolds ended up winning with persistence and good shooting.

In the first half of the game, UW-Platteville was in the lead by 14-3 in the first four minutes of the game. The two teams then dueled back and forth with the biggest lead only being 4 points for the last ten minutes of the half. The Blugolds let the Pioneers shoot 60% from the floor.

For the second half, the Blugolds took the lead from the Pioneers with 12 minutes left in the game. The game was all tied up at 59 points. The Pioneers then went on a scoring spree and took 10-12 points. In the last few minutes of the game the Blugolds went on a scoring spree themselves, giving them seven points. This left the Pioneers still in the lead, 75-74. Then Pioneer senior Brad Nies made two free throws, but in the end the Blugolds sank a three sending the game to overtime.

In overtime the Blugolds started with the lead, but the Pioneers made back some points leading the score to 85-84. The Blugolds made a last second layup to give them the win.

The ending score was Eau Claire 87 to Platteville 84. Both teams played well, and made a nail-biting finish.