UW-P hosts 2014 Welcome Weekend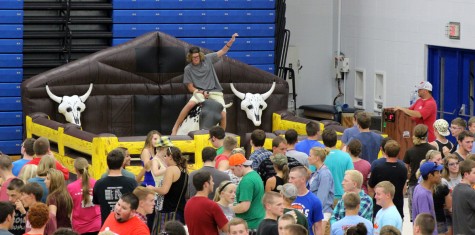 The University of Wisconsin-Platteville began the 2014-15 school year with a full Welcome Weekend Festival schedule that began Aug. 29 and continued through Sept. 1.
All activities were free including the admission to the event.
Two of the main events were the Super Ball Drop and the Rockin' Block Party with "The Bull" mechanical bull machine, both of which took place Aug. 30.
Welcome Weekend's Super Ball Drop consisted of 1,600 flashing super balls dropped from the top of a fire truck crane in the Karrmann Library parking lot.
Prior to the drop, students listened to music and participated in a Jimmy Johns sub-eating contest.
Students complained that the drop was not run as smoothly as it had been in past years.
"I was definitely disappointed in the drop this year," senior elementary education major Michelle Schlafer said. "Everyone in the front ran through the caution tape so many of us farther in the back weren't able to get anything."
The Rockin' Block Party is usually held on the lawn between Morrow Hall and Dobson Hall. However, due to the storm the night before, the event was relocated to Bo Ryan Court in the Pioneer Activity Center.
The Rockin' Block Party featured activities such as a bounce house, an inflatable slide, "The Bull," popcorn, snow cones, root beer floats, a photo booth and music from campus' own radio station WSUP.
"I really like the Block Party, this is my third year doing it and the photo booth was a cool addition," junior industrial technology management major Nathan Hataj said. "I would have liked if it [the Block Party] was outside, but with the weather I understand."
The Rockin' Block Party has always featured inflatables. This year, however, there were fewer inflatable activities for students to take part in.
"The Block party was really awesome, it had awesome snow cones, root beer floats and "The Bull" which is always pretty neat," senior criminal justice major Ryan Larsen said.