Service fair searches for volunteers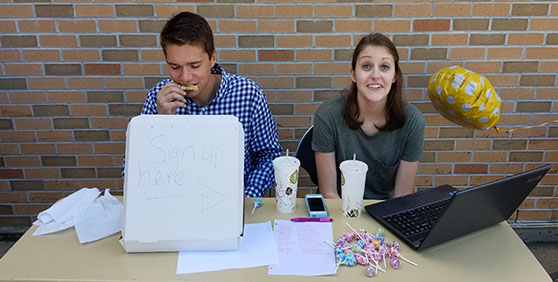 Finding a way to serve your community can sometimes be stressful, but this past week offered students an opportunity to serve without having to pull out clumps of hair in the process.
The yearly service fair returned to the University of Wisconsin-Platteville on Thursday, Sept. 14 outside the Markee Pioneer Student Center. Since 2010, various organizations have participated in the service fair in efforts to advertise their organization and recruit students.
"Last year we have over 9,000 student volunteer hours. We added up the [monetary value of those] service hours and that over $230, 000 back to the community," assistant director for pioneer student center Valerie Wetzel said.
"Being in Platteville, a rural city, is different than being in an urban city. In urban cities, you have different service opportunities available to you. In a rural city, not so much. We wanted to promote agencies to students. To get students to sign up on Pioneerlink."
Some of the volunteer organizations that came to campus included the Dubuque Humane Society. An animal shelter located in Dubuque in which volunteers are always needed to play with the animals as well as walk and groom them.
Another organization that was at the fair was Be the Match. An organization that matches donors to recipients. The organizations main reason for coming to campus was to inform university students that they are the prime donors they are looking for. Be the Match looks for healthy 18 to 48 year olds to be able to donate blood cells or bone marrow to those in need.
"Knowing that you are making an impact on campus and helping your fellow student is rewarding," sophomore industrial engineer major, Rebecca Koble said.
Koble was also the representative at the fair for her organization, the Pioneer Food Pantry. A newly established food pantry that aims to give food to students in need. The Pioneer Food Pantry is also looking for members to attend their meetings, events, as well as someone to fill their vacant faculty advisor seat.
In addition to the opportunity of helping out at the food pantry and possibly donating for a recipient; students were able to volunteer at nursing homes, soup kitchens, and cleaning up trails, according to junior mechanical engineer major Kailyn Longueville.
Longueville also represented the Circle K international service organization, one of the oldest intercollegiate volunteer organizations in the country.
"[We are looking for] anybody. Be a student and have the desire to serve. We would love to have you here," Longueville said. "It's a great resume builder and you're helping better the world. It's the small things that really help."
The service fair was just one of the opportunities for students to get involved. On Tuesday, Sept. 20 and Wednesday, Sept. 21 there was an involvement fair outside the MPSC, featuring a wide variety of clubs and organizations on campus that students have the opportunity of joining.