2014 MS Walk raises $25,000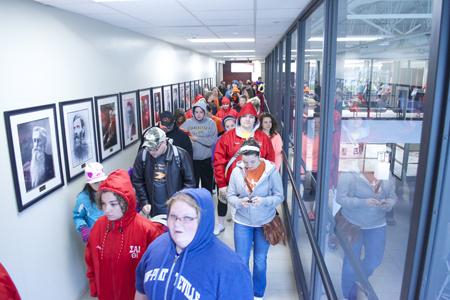 Held at the University of Wisconsin-Platteville, the 2014 Walk for Multiple Sclerosis gained attention and raised an astonishing $25,000, surpassing their original goal of raising $16,000.
As defined by the National Multiple Sclerosis Society, "multiple sclerosis is an unpredictable, often disabling disease of the central nervous system that disrupts the flow of information within the brain and between the brain and body. Multiple sclerosis involves an immune-mediated process in which an abnormal response of the body's immune system is directed against the central nervous system, which is made up of the brain, spinal cord and optic nerves."
Worldwide, multiple sclerosis has affected over 2.3 million individuals.
The disease is difficult to diagnose, as the symptoms can vary among different people and some symptoms may even go unnoticed.
Despite the dreary weather, Committee Volunteer Coordinator Pricilla Hahn was highly pleased with the turnout of the 2014 Walk.
Participants had the option to choose a route that required either a one or three-mile walk.
Hahn mentioned that the weather would not have a noticeable effect on turnout.
"If it's raining or snowing, no matter what, they're walking," Hahn said.
Along with the 2014 Walk, a silent auction was held at the university.
This year, UW-Platteville's MS Walk was sponsored by 54 different organizations and individuals.
The money raised will go to the Wisconsin Chapter of the Multiple Sclerosis Society.
According to Hahn, there were nearly 200 participants and approximately 30 volunteers.
Because multiple sclerosis is a prominent disease in Wisconsin, there were people of all ages who participated and walked to support the cause.
Hahn also stated that the event typically attracts people from all over southwest Wisconsin and Iowa, expanding beyond the Platteville area.
Junior mechanical engineering major Emily Yenter and senior biology major Becky Saladino were two members who represented the Gamma Phi Beta sorority, which ultimately raised $145 to support the cause.
Yenter, Saladino and chemistry major Leaha Lackowski consisted of the Gamma Phi Beta team, which opted for the three-mile walk, despite the rain and wind.
This was Yenter's second and Saladino's sixth year participating in a walk for multiple sclerosis, and the team plans on participating in next year's walk, as well.
Among a multitude of other individuals, the Gamma Phi Beta students are very passionate about the cause, as Saladino's mother was diagnosed with multiple sclerosis in 2001.
"I'm really happy that they [Saladino's friends] came and supported it. It really means a lot to me," Saladino said.
Next year's Walk for Multiple Sclerosis will be held on May 3.
Donations can be made and more information can be found at walkmswisconsin.org.