Student print allowance reduced from $25 to $3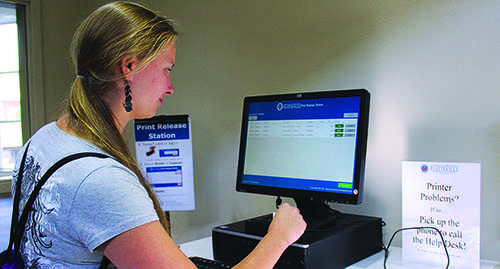 On Oct. 16 the University of Wisconsin-Platteville will reach the final phase of implementing the new printer policy, which includes a new system for printing in addition to a new system of printing allowance, which will decrease the current $25 allowance to $3.
The change in policy comes as a result of a proposal put together by the Student Technology Advisory Committee in the spring of 2015. According to an official statement from STAC, the committee has been working to address the printer issue for "about a year now." The new policy was proposed in front of Student Senate and is being implemented in a multiple phase program.
According to the STAC statement, "We [STAC] looked at the printer balance allocations at other UW schools, and other similar tech schools and found that our balance was one of the highest we found."
The policy change will affect how a student's printer allowance is treated. According to the official policy released by the University of Wisconsin-Platteville, the new $3 allowance will be added to students' Pioneer Passport as passport funds and each print job will be directly deducted from those funds.
According to Colleen Garrity, Director of Media Technology Services, the students at UW-Platteville consume an estimated 2,333,314 sheets of paper and 244 toner cartridges every year, coming at a considerable expense to STAC. The money that funds student printing does not come from segregated fees or tuition but rather from the state and is loosely based on enrollment. Since the funding for printing costs and the related upkeep is limited, Garrity hopes the new policy will decrease the cost by an estimated 15 percent or $10,000.
The money that is saved by these decreases can be put into technical infrastructure that will benefit the whole campus. Nathan Manwiller, Support Services Operations Manager for ITS, said, "STAC plans on expanding the Wi-Fi coverage in the residence halls and in outside spaces on campus."
In addition to the decrease in printing allowance, two print job release stations have been installed in the Karrmann Library and the Bears Den. Print job release stations require students to scan their Pioneer Passport and confirm the print job before the printer will operate. According to Garrity this process is not unique to UW-Platteville and will help increase privacy for students and decrease the amount of unnecessary print jobs.
While the policy change has met some opposition from students, Garrity said that by adopting this new policy UW-Platteville is actually playing catch up.
"We [UW-Platteville] are about 10 years behind in regards to our printing policy," Garrity said.
The new official policy and prices can be found on the ITS website at uwplatt.edu/its.