Nailed It?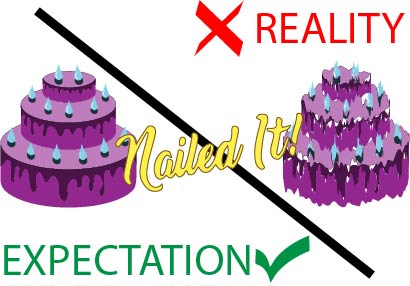 Do you try to bake amazing cakes, but they turn out to be barely edible? "Nailed It" is a baking show that puts home bakers to the test to see which one can recreate different bakes. The show plays off of the idea that a recipe never turns out like the picture associated with it like on Pinterest or Instagram.
Each episode consists of two rounds to test three bakers' skills or, in most cases, lack of skills. The first round is the "Baker's Choice" round where the bakers choose between three differently decorated creations to recreate. In the second round, the bakers are given the same design to recreate and the "best" baker wins $10,000.
While each episode has the same plot, there are unique themes such as eggs, mummies or the 90s. The themes are overly played out throughout the episodes with hosts and contestants being forced to walk like mummies or have a 90s dance party.
Although this show has a lightheartedness unlike most baking competitions, it's terribly scripted and, frankly, painful to watch.
The bakers are given pre-made cake mix, rice cereal treats and fondant, so there is very little baking involved, yet their creations almost always turn out like a child decorated them and then tossed them out of a two-story window.
If you have run out of shows to watch, this train wreck can be found on Netflix.