State Legislature Repeals "Mask Mandate"
Wisconsin Governor Tony Evers Pulls a "Reverse Card" and Reinstates Order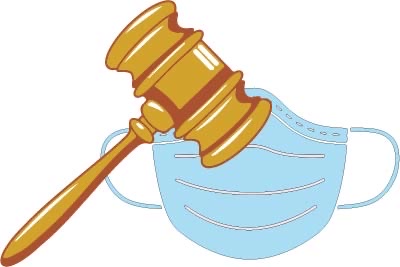 The Republican-led Wisconsin State Legislature held a vote on Friday to repeal the state's most recent emergency order on COVID-19, including a measure most commonly known as the "Mask Mandate." This mandate required Wisconsin residents to wear some form of face covering prior to entering grocery stores, restaurants, or other enclosed spaces to prevent the spread of COVID-19.
When asked why the repeal of the measure was brought to a vote, House Speaker Robin Vos said in a news conference Friday, "The idea that we are going to say somebody has to wear a mask inside a private business if the private business doesn't want to require it, I don't support that."
Though the daily number of new COVID-19 cases in the state has fallen significantly from its height in Nov. 2020, from 7,000 new cases daily to about 600, Wisconsin Governor Tony Evers said he was fearful that repealing the mask mandate might reverse this downward trend. His response to the move was to immediately reinstate the emergency order. This is not the first time that he has had to do so. Since the beginning of the pandemic, the state Legislature has refused to pass any measure that would contain the spread of the virus, citing personal, political or economic beliefs.
In a statement to the public released Friday announcing the new emergency order, Evers expressed his frustration with the state Legislature's failure to act, stating, "Every step of the way, our statewide strategies to contain this virus and prevent the spread have been met with lawsuits, political rhetoric and obstruction. Unfortunately, that happened again today when Republicans in the Legislature came in to vote down our state's public health emergency and end requiring face coverings in public places."
Though this move ensures that the state can keep the number of COVID-19 cases under control as the federal government begins the distribution of the COVID-19 vaccine, a lawsuit filed by state Republicans is currently under consideration by the Wisconsin Supreme Court. If the Court rules in favor of their claims that Evers' use of emergency power oversteps the boundaries of his station, it may remove his ability to renew the emergency order in the future.