Faculty Profile: Caitie Chiaverotti
Studying abroad, loving it and passing it on to future students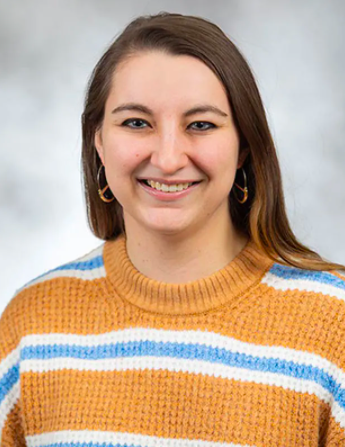 Have you ever been on a trip abroad that was so amazing, you based your career on it? Well, for Caitie Chiaverotti, this was exactly the case.
Caitie Chiaverotti is the Interim Education Abroad Specialist in the Education Abroad office on the UW-Platteville campus. Chiaverotti hails from Darlington, Wisconsin. She earned her degree from UW-Platteville, majoring in International Studies and Spanish and minoring in Latin American Studies and Business.
She began working on campus in June 2018 with the Office of Multicultural Student Affairs. In the office's own words, "the Office of Multicultural Student Affairs offers scholarships, activities, and other opportunities for students who have traditionally been underrepresented on our campus."
In January 2020, Chiaverotti began working with the Education Abroad office. When asked about entering the new position right before the pandemic began, Chiaverotti had this to say:
"It definitely made me realize I'm more capable than I thought … I was really trying to learn and was questioning a lot but when a pandemic is thrown in, you really have to learn quickly and just realize that you can do it."
This was not the only instance of Chiaverotti realizing her own capability.
As a student, in spring 2016, Chiaverotti participated in a study abroad program where she spent a semester in Buenos Aires, Argentina.
Chiaverotti said she breaks the trip into three main parts: time spent in the capital city, Buenos Aires, and two trips, one to Iguazu Falls in northern Argentina, and one to Patagonia in the southern part of the country.
Though she enjoyed all aspects of her trip, Chiaverotti marks visiting Patagonia as her favorite.
When asked about her time there, she explained that it was her favorite aspect of the trip, and that she feels lucky to have been able to visit a place that people spend their lives dreaming about visiting.
"We traveled to Calafate, which is where the glacier is there, and we got to trek on the glacier, and they fed us chocolate bonbons and … we had a drink of whiskey with glacier ice in it."
The food she ate in Argentina seemed to be a common source of joy for Chiaverotti.
"I miss the food. The empanadas were my favorite. There's a restaurant in Milwaukee that makes Argentinian empanadas …so if I'm craving them, I have to make a trip and have them there."
She also mentioned a few desserts, including ice cream and alfajores, an Argentinian sandwich cookie filled with dulce de leche.
"The funny thing is I was … enjoying all the food but, like, the food is so much healthier even than here in the U.S. so … I still felt like really great even though I was eating all this yummy food all the time."
Chiaverotti had many great things to say about her trip, including the great relationship she formed with her host-mom, with whom she is still in contact. She also mentioned the many skills she learned on her trip, as well as how life-changing it was for her. 
"Coming from … this small town to a city of millions was really cool to experience. There was always stuff going on and there was a lot of culture. It was neat to see the European influence in a lot of the architecture in Buenos Aires."
Chiaverotti's trip was hosted by an affiliate partner program, or a program hosted by a business or organization, which is one out of four types of programs offered by UW-Platteville.
The other three are short-term faculty-led programs, UW-Platteville Education Abroad programs, and exchange programs.
Short-term faculty-led programs are programs led by a faculty member and are focused more on a specific subject. They typically offer more support for students in terms of travel and program activities.
UW-Platteville also has six programs hosted by the campus as an affiliate partner. These are longer term trips. However there are some summer and winter term options.
Exchange programs are semester-long trips, where the student pays UW-Platteville tuition while attending classes abroad. These trips do not include housing, which makes them more affordable and offers more independence for the student.
Because of the pandemic that rattled all campus activities, most of the study abroad programs were either canceled or were offered as a virtual option. A total of seven UW-Platteville students participated in these virtual programs in the 2020-2021 academic year.
"There were two virtual programs we offered that had involvement: Loop Abroad Vets Around the World and the UW-Platteville Exchange at Hochschule Darmstadt. Both programs happened during the winter break timeframe," Chiaverotti wrote in an email correspondence.
Chiaverotti informed us that they are hoping to resume study abroad programs fall 2021. As of August, there were 7-10 applications, with a few being reviewed for approval, for the fall 2021 semester study abroad programs. This is about half of the number of applicants for the fall 2020 semester, which was 20-25, all of which had to be withdrawn due to the pandemic.
She also mentioned that they are accepting applications and reviewing programs for spring 2022. They currently have 15+ applications for spring 2022, which shows an increase in interest as we gain more control over the pandemic. However, all of the applicants for the 2021-2022 school year will be expected to sign waivers before travel.
The numbers mentioned above are for both UW-Platteville students and students from other universities participating in UWP's affiliate partner programs. Applications for the spring 2022 semester are due by Oct. 15.
If you are curious about UW-Platteville's study abroad programs, you can attend their Study Abroad Fair. The in-person event is on September 29, from 10 a.m. – 2p.m., in the MSPC Markee rooms. There will also be a virtual event on Sept. 28-30. More information can be found at the Education Abroad's SharePoint site.